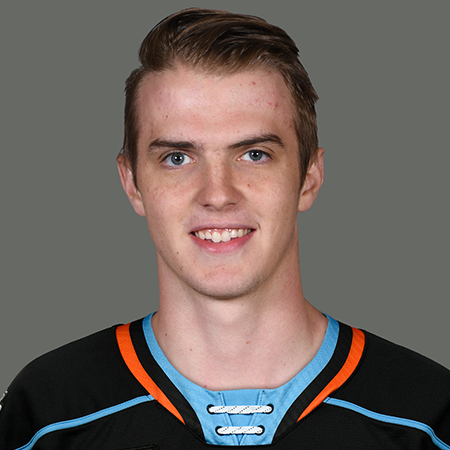 Troy Terry
RW
#19
DOB: 9/10/1997
Ht: 6-1
Wt: 178
Shoots: R
Years on Team: 1
School: University of Denver
Hometown: Denver, CO
Drafted: ANA 5th rd., 148th in 2015
2017-18
Made his NHL debut with Anaheim on Mar. 27, 2018 @ Vancouver, going scoreless with one shot in 7:55 TOI.
Completed his junior season with the University of Denver (NCHC) and Team USA (2018 Winter Olympics), registering 14-34=48 points in 39 games to lead the Pioneers in scoring.
Helped lead the Pioneers to their second straight NCHC Conference Championship, as they became the first two-time winner in the history of the tournament…during the NCHC tournament, finished with 2-5=7 points in five playoff games.
Was nominated as a candidate for the 2018 Hobey Baker Award, presented to a college player "who best demonstrates strength of character both on and off the ice, contributes to the integrity of his team and displays outstanding skills in all phases of the game"…was named to the NCAA First All-American Team in 2017-18.
Was named to the 2018 U.S. Men's Olympic Hockey Team…recorded five assists (0-5=5) in five games…ranked fifth among skaters in the Olympics in assists and second on Team USA in points.
Career
Signed a three-year entry-level contract with Anaheim through the 2019-20 season, Mar. 26, 2018.
Helped lead Team USA to gold at the 2017 World Junior Championship and Denver (NCHC) to the 2017 NCAA National Championship…went 4-for-4 in shootouts with game-deciding goals against Canada (Final) and Russia (Semifinals) during the World Juniors.
Scored 45-70=115 points with a +56 rating in 115 games with Denver…led the Pioneers in scoring with 22-23=45 points in 35 games and earned All-NCHC Honorable Mention honors in 2016-17…was named to the All-Frozen Four Team after collecting four assists (0-4=4) in victories against Minnesota-Duluth (Championship) and Notre Dame (Semifinals).
Helped lead Denver to the 2016 Frozen Four with 9-13=22 points in 41 games during his collegiate debut in 2015-16.
Won gold with Team USA at the 2015 U-18 World Championship with 3-2=5 points in seven games…contributed 4-1=5 points to help the U.S. to bronze at the 2014 U-18 Ivan Hlinka Memorial Cup…won the U-17 Five Nations Tournament in Slovakia as a member of the U.S. U-17 Select Team.
Read More