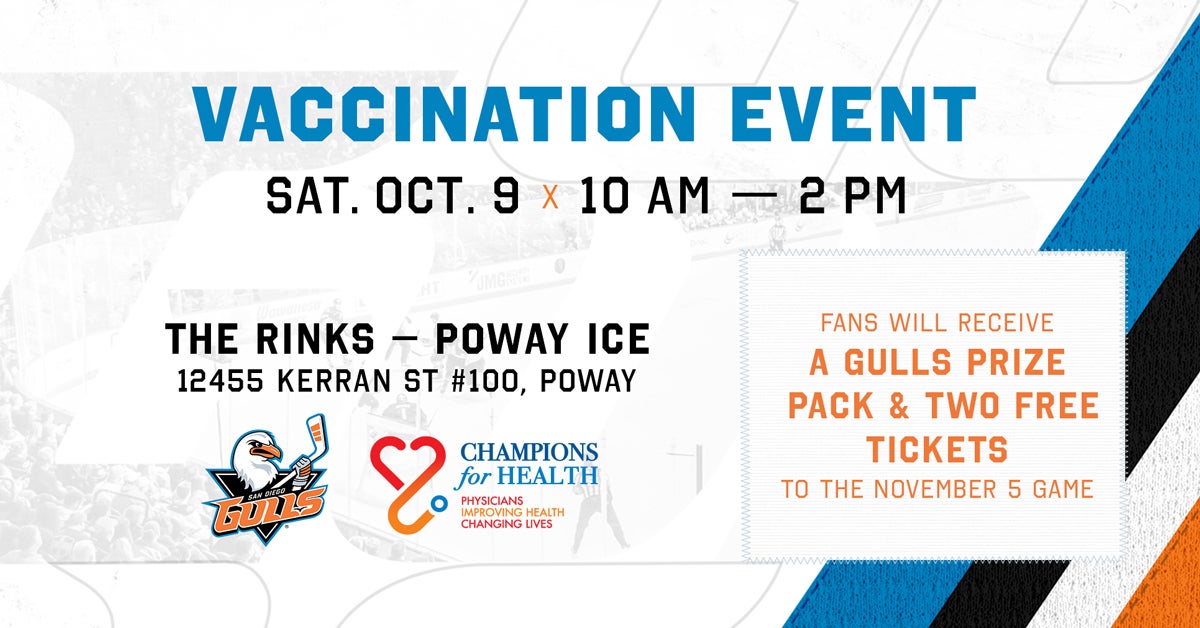 Receive Your COVID-19 VACCINE COURTESY OF THE GULLS
Join us at THE RINKS - Poway ICE on Saturday, Oct. 9 for our vaccination event! We've partnered with Champions for Health, a county-approved vaccination provider, to offer all three vaccines free of charge. No appointments necessary!
We can provide 100-300 vaccinations at this event.
MASKS ARE REQUIRED BY ALL PARTICIPANTS
---
VACCINE OPTIONS*
Moderna - Requires a second dose at a later date

Pfizer* - Requires a second dose at a later date

Johnson & Johnson - Requires one dose

Additional: Flu shot
*Individuals 12-years-old and up will receive Pfizer. Those 18-years-old and up can have a choice of any of the available vaccines. The Johnson & Johnson vaccine will be provided two hours before the event ends.
---
INCENTIVES
Gulls Prize Pack

Two (2) Gulls Tickets to Heroes Night on Nov. 5

Gulls will collect individual's name and email to distribute tickets one week prior to game date

Eligible minors who receive the vaccine must have a parent present to receive Gulls tickets
NOTE: Incentives are for those newly receiving/completing vaccination at our events. THESE EVENTS ARE NOT INTENDED FOR FANS WHO ARE ALREADY VACCINATED.
---
If you are using a text to speech reader for accessibility and are having problems using this application, call (619) 359-4730 for assistance.