Roy Sommer and Rob Dimaio Talk Hiring, Culture And What Gulls Fans Can Expect
Jul 13, 2022
Below is a transcript of yesterday's press conference to introduce Roy Sommer as head coach of the San Diego Gulls, the team's fourth in their American Hockey League history. New Gulls General Manager Rob Dimaio also spoke at the event. To watch the event, click here.
Rob DiMaio opening remarks
Well, I appreciate being here. Everyone, thanks for coming. I, first of all, want to thank the Samueli Family for giving me this opportunity, (Anaheim Ducks Club President) Aaron Teats, (Ducks General Manager) Pat Verbeek. This has been a long time coming for me. It's been something I've been working towards and coming to the San Diego organization is a special time for me. This organization has had a long history of success. It's been here for a long time and it's one of the somewhat untapped markets around the professional hockey scene. I'm really appreciative of the opportunity to be here. I look forward to working with Roy (Sommer) very closely, building a culture here that has been consistent throughout the years that San Diego has been involved with the American Hockey League.
We're trying to build an organization here that develops very good young talent. Talent that can step forward to the National Hockey League and help Anaheim and our organization up at the NHL level to be successful. So, I'd like to thank Roy. He's got a long history of success at the American League level with 1,700 games coached with 808 victories. We couldn't have a better coach to work with our young players, develop talent and have success as an organization. So, I'm very appreciative of Roy accepting the position with us here in San Diego and I really look forward to working with him. Welcome, Roy.
Roy Sommer's opening remarks:
First off, I'd like to say it's an honor to be chosen as coach of San Diego and I know it's probably one of the most sought after positions in minor league hockey to get and like I said, when they told me I got the job, I was fired up. I'd also like to thank the Ducks organization; thrilled to be part of them. I mean, I've been up the road from them for 26 years and they've kind of battled each other over the years and finally came south. I'd also like to thank Henry and Susan Samueli for the opportunity, (Gulls Director of Hockey Operations) Jillian (Samueli) and Aaron and especially Pat and Rob for giving me this opportunity. Coaching in the American Hockey League - it's the number one development league in probably the world and it's a great place for young men to start their careers. I think the biggest thing about it is when you do come to the American Hockey League, there's expectations and as a coach, I hopefully help those guys fulfill those expectations to play in the National Hockey League.
Being in San Diego, it's a team that's got a winning tradition and I look forward to the challenge of meeting that winning tradition and you know, let's put things right here - I'm not a spring chicken. I don't have a lot of years left in me in coaching, but I sure would like to win a Calder Cup here. I know coming into San Diego over the years, I know all of our players (San Jose Barracuda) you could tell getting onto the plane or the bus coming down here, they're going, 'Man, we're going into San Diego. They've got the best fans in our division.' I was kind of looking at some of the stats and I was going, 'Man, San Diego has got a pretty good road record here and a lot of it is because of the fans.' I mean you guys get behind them and it's kind of like a sixth person on the ice at times when things get down. You know, it's one of those places; it probably has the best fan base in the American Hockey League. I've been on the East Coast, I've coached in the middle, in Kentucky, I was in Worchester, I was in Cleveland and I think you guys and Hershey are right up there with the best fan base in the league. Like I said, it's an honor to be coaching in front of you.
One of the things that whenever I came into San Diego, was the way you guys honor your military here. I know before every game, they would mention some of the people that were in the military, whether they be old guys or people that just came back from combat. That's always been a big part of me is military and what you guys do for our country and I know that San Diego really appreciates that and I know the Gulls are a big part of that. Hopefully, I can get our guys out there and maybe train with you guys (members of the military) a little bit to see what it's really like to be out there.
Something about myself - I'm a fourth-generation Californian. Actually, that picture up there if you see that bolo, that was my great, great-grandfather's (bolo tie). That's probably 130 years old and I started wearing that while I was coaching in Worchester and I kind of wanted to change things up a little bit. I was digging through some stuff and my grandfather had given me that and I go, 'Man, I'm going to wear this bolo behind the bench'. We went on a like a six, seven-game run so then I started wearing it. Whenever things started getting kind of slow or we weren't doing very well, I'd throw that bolo on and the guys would go, 'He's got the bolo on, it's a win'. I wore it a lot last year and it didn't do very good. That's kind of when I started wearing the bolo and I'm kind of a simple guy. I've got a Timex watch that's worth 30 bucks, I drive an '07 beat up pick-up truck with a roof rack and a toolbox in the back. It's kind of how I roll.
A little bit about my family - I've got a wife that's kind of hung with me. You heard about all of those cities we've been in and all the moves we made and she's hung in there with me. I've got three kids - my oldest boy who, some of you guys who have been fans here might've seen him, his name is Marley. He's got Downs (syndrome) and is Autistic and he goes on all the road trips with me and helps out in the locker room and stuff and that's one of the reasons hopefully, I can be a big part of the community here. I know a lot of people that have kids that have disabilities. It's kind of a hard deal to deal with at times and hopefully, we can get together and that can be part of our community. As far as the military, that's the same thing. I've got my other son, my middle son, Castan. He's a coach and he coaches out east in Holy Cross and then my daughter (Kira), she's 24 and she works out in New York at a school out there.
Some of the other things - I played all my minor hockey up in Northern California in Berkeley. That's where I started so I know the grass roots parts of things are real big in San Diego and I know growing up in that area, we had the San Francisco Seals and they used to play the San Diego Gulls and that's how they kind of got started (with) the minor league hockey in the area. Hopefully, our team and myself can be part of that community as well in helping grow, continue to grow the minor league sport here in San Diego.
My coaching philosophy - I think the biggest thing is to be fair so you don't have to think about being fair. If you kind of take that into context a little bit, it's like a guy might come in and - I do these meetings every 10 games with the players and kind of bring them in and up-to-date in how they've done in the 10 games and this and that - some guys will come in and say, 'Hey, I need more ice-time and I need this and that.' Just to tell them; to be fair with them, 'Do you think you deserve this? Is this part of what you think you should be getting?' That's kind of when you bring it out whether he is being in the right role or not in the right role, but that's kind of a little bit about my coaching philosophy.
I think you'll find out that most of the teams that I've had there's always been a high compete-level and that's something that's non-negotiable with me. That goes as far as their practice habits and same with their game. The American Hockey League - it's a tough animal. I've had guys that have scored over 170 points in juniors and they've played three years for me and they've never scored 20 goals in one season. So, it's a really hard league to get your feet wet, but if you put the time in and you put the commitment in, anything is possible and you can achieve your goal of playing in the National Hockey League. I guess the biggest thing is I'm looking forward to having (success) and to continue the tradition here in San Diego and have a winning season and have a lot of fun. Again, thanks for coming and thanks for welcoming me into your community. Thank you.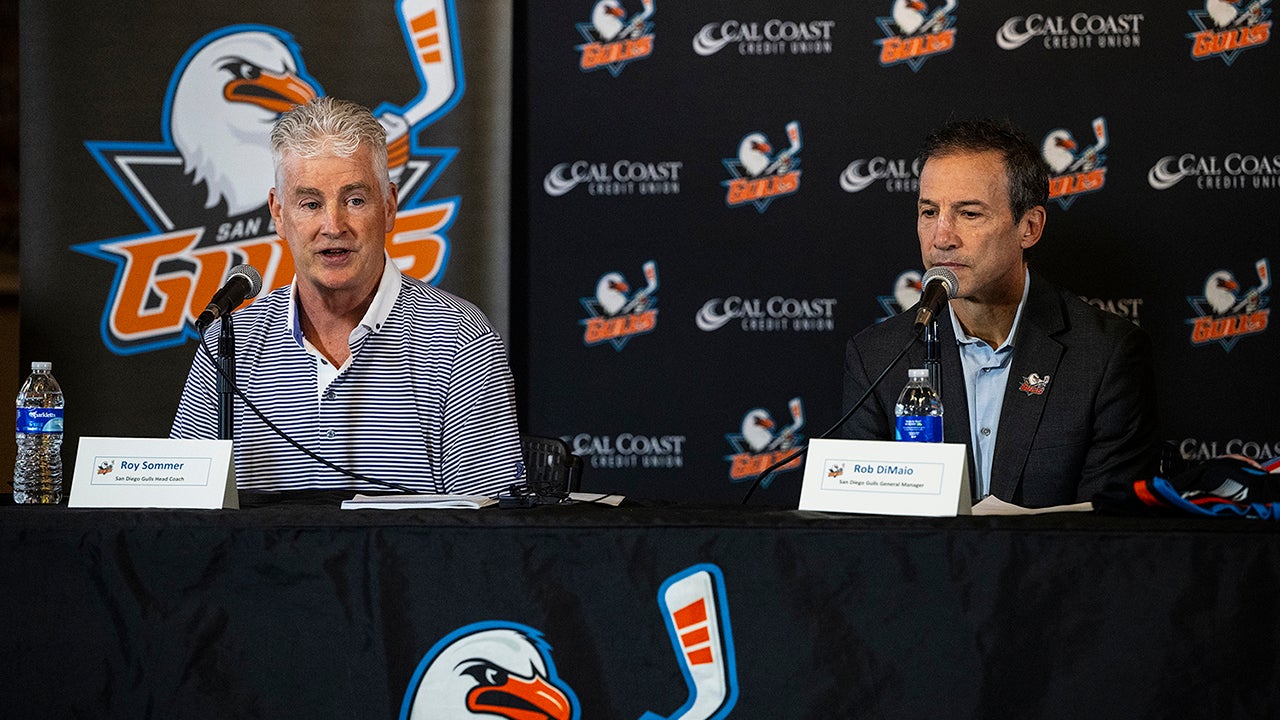 Press Conference Q&A:
On your vision for the Gulls:
RD: Well, Roy kind of has already brought that point up. I think we look, from Anaheim's perspective, we want a team that's going to be real competitive. We want a team that plays together, that works together, that has a goal to succeed at the end of the day. The American Hockey League is a development league and ultimately, the better they perform down here, the culture that is provided down here just enhances opportunity for these young players to come up to Anaheim and be effective NHL players. That's why Roy is such an attractive guy because of the history that he's had in the American Hockey League. I mean, it's no fluke that you coach for 1,700 games and stick around and with that, you have to have a real understanding of different generations of players. The game has changed so much over the years and it's a difficult thing for a lot of veteran coaches to be able to adapt to this new, younger generation and Roy has done that throughout his career in all different areas of the game.
Like I said, we're really excited because it is a development league - we're going to have a lot of young players coming through San Diego and those players ultimately need to be bred and brought to a point where they're going to be effective NHL players in Anaheim for us. We're really excited to have Roy.
On the Gulls fans:
RS: San Jose - I'm not going to say anything bad about an organization that's kept me around for 26 years through good and bad, but our fanbase was nothing like here. I mean every time we lose coming out of here, there'd be a 100 people yelling at our bus when we were leaving. Like I said, it's exciting to come to the rink. If you were a young player and you play in the National Hockey League, most of the buildings are filled there and you come from a fanbase like this where the building is filled and you go up to Anaheim where they have a good fanbase up there also. You go like 'Man, it's just kind of part of the culture'. I've been around the league a long time and this by far is one of the best fanbases in the entire league.
On coaching philosophy:
RD: I think you need a coach that's fair; that has a good grasp of what is needed. Team sports is a difficult thing and to be able to bring a group of young people together that have a collective goal to succeed is not an easy thing to do. It's an art and the good coaches stick around for a long time because they can understand that, and we probably have one of the best here in Roy that can do that. So, that is the ultimate goal for us is to have, to build a culture here that is successful.
On the challenges of coaching an ever-changing roster at the AHL level
RS: You know what? To be honest with you, if you're not moving players up in this business, you don't stick around. I know in San Jose, when they were really good and they were in the playoffs. Out of 26 years, I think they missed them just a couple times. The last three years have been real hard, but if you can put three to four players up a year and they'd end up going up and contributing, you're doing a pretty good job at this level. I mean anyone can go up. Like we had, I don't know how many players went up last year for us, but anyone can go up. The problem is going up and making a difference and contributing. That's part of the development process down here is to make sure that when they go up, they have their details down.
A young player going up, the biggest thing to do is to get the trust of the NHL coaches and when they bring guys up, they don't always start on the first line; they don't always get to play with Getzlaf, you know? They'll start on the bottom line and once they get the trust, they end up working their way up the lineup. I don't know if that answers your question, but the biggest thing, like I had Jonathan Cheechoo, Ryane Clowe. I can go on and on - guys that go up they would be there for three or four games and then they'd get sent back down either because their practice habits weren't up to par yet or they didn't get enough out of the eight or nine minutes that they were playing up there. So, then they have to come back down here and rework their craft again.

On the type of style he'd like his team to play:
RS: I've been doing it for so long that you really used to worry about like I go, 'Oh man these guys are coming in this draft, players coming in and I'm going to end up getting this guy,' but you really don't know at the American Hockey League level what you're getting until training camp officially breaks. Then, you see what kind of team you have. I mean, I had teams in Worchester where we weren't really very good, but we were super tough and we beat up a lot of teams and that's how we had to win games. Then, I've had teams that were super skilled that if they tried to play that type of game, you weren't going to win very many hockey games.
I think the players we're going to be getting for next year there's going to be a lot of skills so I want to let those guys experience making plays in the offensive zone, gaining the zone. They might make a few turnovers, but kind of let them have a little bit of fun with that. There's certain parts of the game that are non-negotiable, like how you play defense and whether you're going to get in front of a shot or not get in front of a shot. Not everyone can play offense - those guys are hard to find, but everyone can play defense. Again, to play up in the NHL, if you can't take care of your own end or take care of pucks, you're probably going to be back here in a couple games.
Back to All