GROUP TICKETS FOR THE 2019-2020 SEASON ON SALE NOW!
Group benefits include:
Increased priority for premium game dates and seat locations
Discount off box office pricing
Reserved seating for your group
Exclusive Gulls hats and other items also available
A group is considered to be a purchase of 10 or more tickets*
For more information on our hospitality options and group experiences click here.
Group Hospitality Options:

On-Ice Suite: The On-Ice Suite is a luxury area located on the glass and is directly attached to the exclusive Stella Artois Lounge. The suite holds 50 people and gives fans the best option for a group looking to sit on the glass.
The Perch: The Perch is located above the Gulls Attack Zone with a great view of the home and visitor tunnels. With a capacity of up to 12 people, The Perch offers the option to add additional seating directly in front of the space. The perfect option for your next team building event, or family outing!
Slapshot Suite: The Slapshot Suite is located above the blue line with a great view of where the Gulls attack. With a max capacity of eight people, the Slapshot Suite also offers the option to add additional seating nearby.

Group Experiences Can Also Include:

National Anthem
God Bless America
Afternoon Hockey
Intermission Performance
Mites on Ice
Color Guard
Big Flag
Zamboni Rides
Scoreboard Recognition
Group Photo on the Ice
High 5 Tunnel

*Group experiences based on availability and ticket purchase*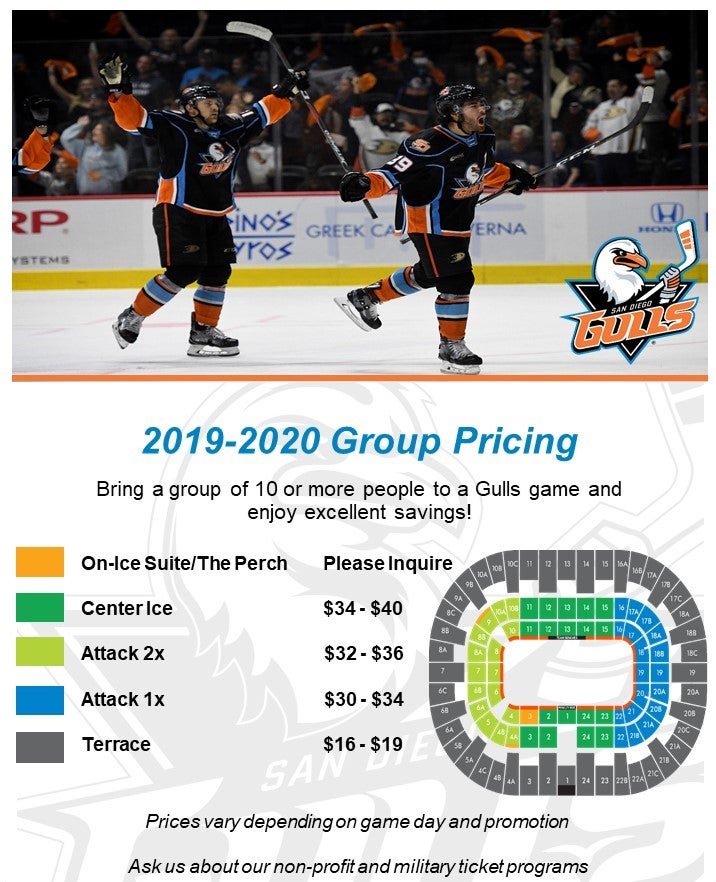 Contact the Group Ticket Sales Department at 619-359-4732 or email [email protected] today!
Groups Team Members:
To receive priority, please fill out either the group or suite early registration form below. Once you fill out the form you will be contacted directly by a Gulls representative.
FOR GROUP OUTINGS, CLICK HERE
FOR SUITES, CLICK HERE
If you are using a text to speech reader for accessibility and are having problems using this application, call (619) 359-4730 for assistance.