A Day on the Wild Side
Chase De Leo spends the day with the San Diego Zoo as a zookeeper
Nov 26, 2019
By AJ Manderichio/SanDiegoGulls.com
It's not every day you find yourself feeding giraffes, washing elephants and preparing feeders for koala bears.
Those are just a few of the tasks Chase De Leo faced yesterday, as he traded in his skates and stick for the chance to be a zookeeper for the day at the San Diego Zoo.
"It's so fun coming as a fan and just enjoying the zoo from the other side of the fences, but when you put yourself in the shoes of the zookeeper, it's a ton of work going in to it," De Leo said after his shift ended. "The love and care they have for the animals in their section they take care of is special to see. It makes me feel happy; you hope those animals are getting that much love and that much care. They do a phenomenal job here. Everything is spotless; animals are definitely spoiled. It's good to see."
Taking care of animals is nothing new for the La Mirada, California native. De Leo grew up surrounded by pets, ranging from dogs and cats to goats, pigs and donkeys. He didn't hesitate at the opportunity to get an up-close look at the life of a zookeeper.
"It was, honestly, probably one of the most fun days I've ever had," he explained. "I grew up loving animals and always having animals around me, and today, obviously, a little different type of animals around me. Getting to put myself in the shoes of a zookeeper at one of the best zoos in the world was something special. Got to scrub an elephant's toes. I'm not really sure if I'll ever be able to do that again. Definitely thankful for today and getting this whole thing put together."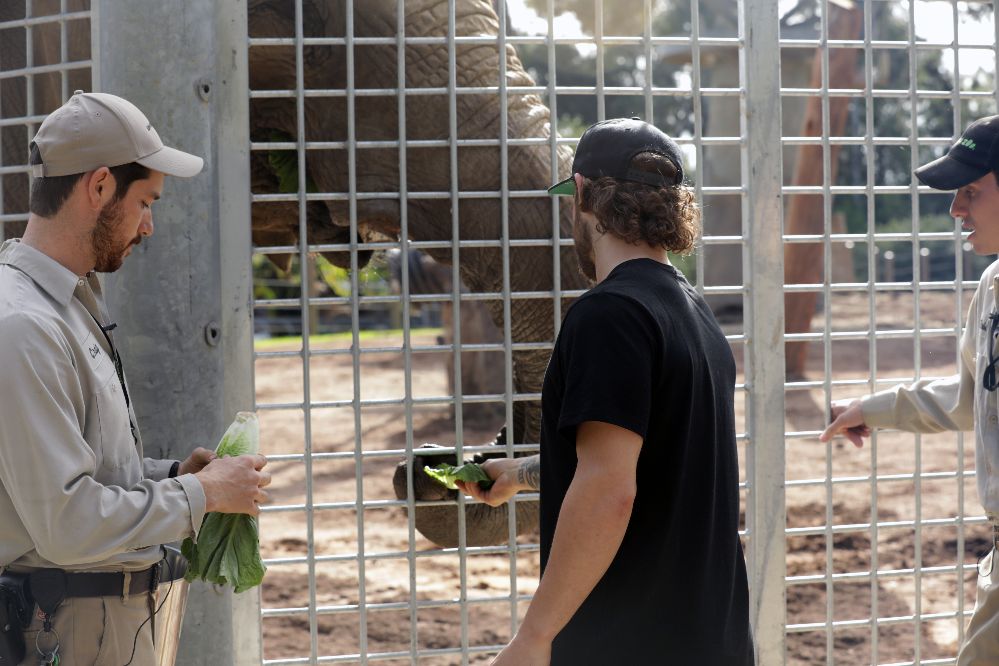 His day started bright and early, as the giraffes needed attention around 7:30 a.m. PT. De Leo spent some time with the zookeeper, preparing specific feeding areas and raking the enclosure. After finishing inside the exhibit, he moved outside the gate, where he hand-fed the giraffes biscuit treats.
"Getting to feed a giraffe, having them grab their treats with their tongue out of my hand, getting a little giraffe saliva on my hand, you don't get to do that very often," he said.
From there, De Leo spent time inside the zoo's koala bear exhibit, getting an up-close look at mothers and their offspring, called joeys, inside the habitat.
"Pretty hard to beat the baby koalas," he said while recalling highlights of the day. "It weighs one pound and was only five months old, so that was pretty special."
Inside the exhibit, De Leo helped set the eucalyptus feeders and observed as zookeepers weighed a mother and her child.
Next came the elephants, an immersive experience De Leo won't soon forget.
"They're so well trained," he said while discussing the elephants. "Just standing next to the fence, they told her to lift her foot up, and Tambo [one of two elephants currently living at the zoo] lifted her foot right up and just stood there while I scrubbed and cleaned her foot. She was even making a little purr noise, which they said meant she was enjoying herself. That was pretty cool."
On top of the foot bath, De Leo entered the exhibit to help zookeepers refresh food and clean the grounds, which included the dirty job of removing feces from the grounds.
His final stop brought him to the gorilla exhibit, where De Leo prepared lunch for the Western Lowland gorilla. From a perch above their habitat, he fed the family of three, remarking on their intelligence and their unique personalities.
Throughout the day, the theme of conservation penetrated each of the experiences.
"That's the whole point of why all the people who work at the zoo, and the zookeepers, love and do their job," he said. "It's fun coming to look at [the animals] and enjoy them, but it's so much deeper than that. It's tough with what goes on in nature – fires, floods, and stuff that's out of everyone's control – but thank god for places like this, where they keep the animals healthy, protected and growing."
Could the zoo lure De Leo back in the offseason to provide an extra hand?
"We'll see. It's a lot of work," he said when asked. "I hope my dad isn't watching this, he's going to make me start picking up some poop around the house. It was a fun day and I'll be back, for sure."
To learn more about the San Diego Zoo and its mission of animal conservation and education, visit sandiegozoo.org or endextinction.org.
Back to All