Draft Analyst Sam Cosentino Breaks Down Ducks Prospects, Talks Future Impact
Aug 10, 2021
The NHL Draft delivers a summer of promise around hockey.
The feeling extends to Southern California and the Anaheim Ducks organization, which earned high marks for the talent added to its impressive pipeline following this year's version of hockey's premiere offseason event.
Sam Cosentino, Sportsnet's draft analyst, joined Andy Zilch on the latest GullsCast to discuss some of the younger prospects in the Anaheim Ducks organization. Cosentino broke down several of the players backgrounds and what to expect from them moving forward from an analyst's point of view.
In addition to the prospects that already spent time with the San Diego Gulls last season, Cosentino provides some insight into a couple of the Ducks recent 2021 NHL Entry Draft selections. Highlighted by Anaheim's third overall draft pick Mason McTavish, Cosentino and Zilch discuss the potential reasoning on why McTavish was the pick at number three and where he fits in the team's long-term puzzle.
Below is a transcript of Cosentino's interview, edited lightly for clarity:
Introductions:
I'm happy to be on. I'm a big fan of the Ducks organization and the work that they've done here over the years with their drafting and developing. It's kind of interesting to see them take that approach here and having them take a step back the last couple of years after a long run of success. I don't think it's long before they're back, up and running, and contending once again.
On his background:
I went to a little NAI school on a baseball scholarship back in the early '90s and the reason I went there was to get a broadcasting degree. I came out of there, worked for the [Toronto] Blue Jays as an assistant equipment manager for a few years. Then, I was kind of doing both of those things with the local television network, then I integrated fully into the TV stuff in '05 and '06, but I had been at it already for about seven to eight years before then. I got to do the Blue Jays play-by-play for about 20 to 30 games in 2010, was the sideline reporter from about 2005 to 2010. The Canadian Hockey League (CHL) has been a big part of my program for the last 15 years and covering the Draft since Sportsnet got the rights back in 2015.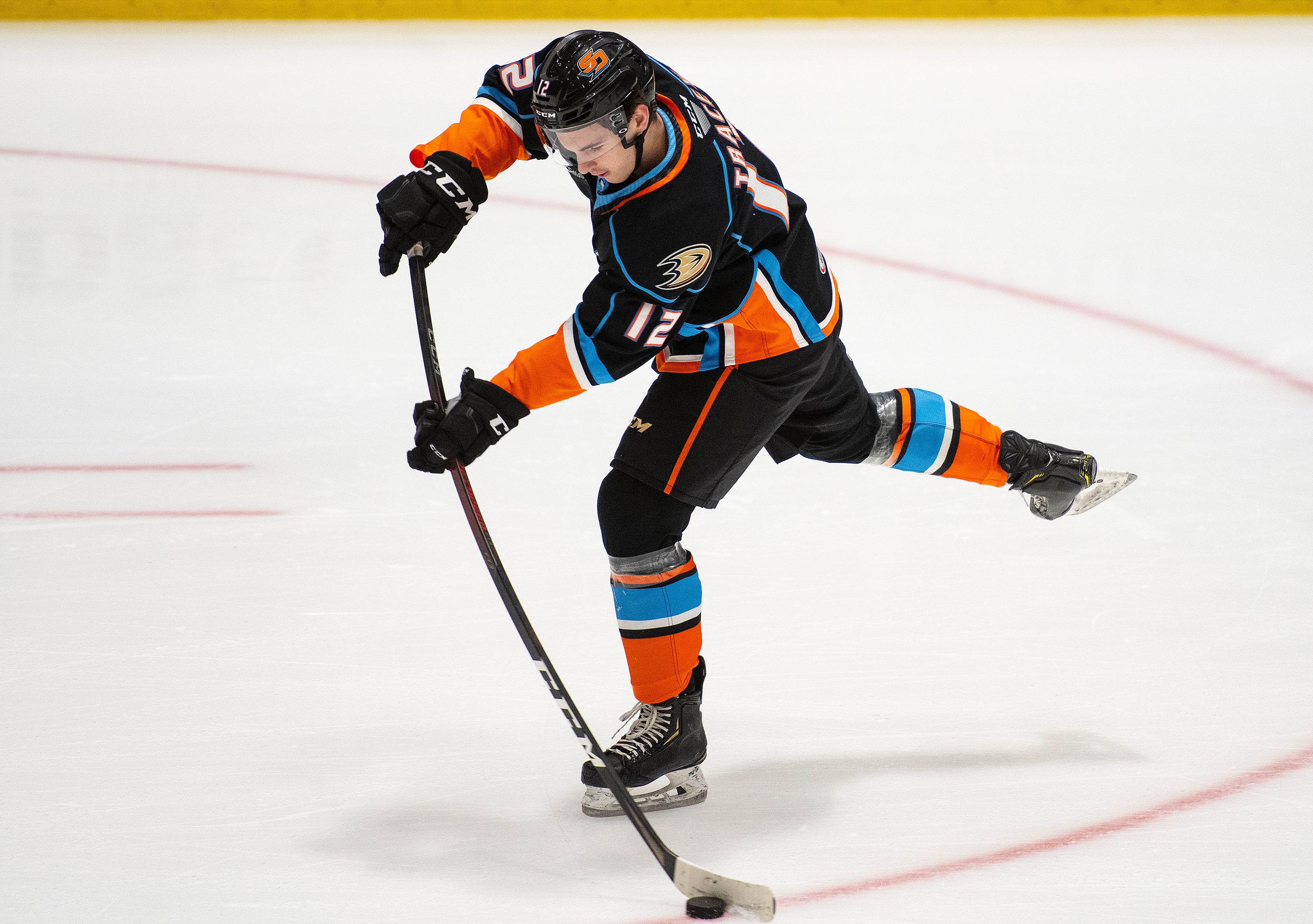 On Brayden Tracey:
He was an interesting guy when he was taken 29th in the 2019 (NHL) Draft. I thought, "that was a bit of a surprise for me, I had him placed more so in the second round." He had such a great year with Moose Jaw and a big reason for that was, [when Tracey was] 16 years old, Allen Miller, the then-GM of the Moose Jaw Warriors, asked him to go back and play Midget AAA in the Calgary area because they didn't really have a spot for him. They knew he was a really good player, but they wanted him to play a lot and they couldn't offer him that time on a pretty good Moose Jaw team. He went back, lit it up in Calgary and he shows up as a 17-year-old. He has an unbelievable rookie season with Moose Jaw, wins [WHL] Rookie of the Year and gets drafted in the first round. You kind of think he's off and running at that point, but I think the thing about Brayden is, you have to understand – based on not playing his whole WHL season at 16, I think you have to understand at the NHL-level to get acclimated. So, what does that mean? He goes 12 games in San Diego, doesn't record a point and it's probably tough to keep him in the lineup regularly. He goes back to Victoria and had about a point-per-game there to get his confidence back. He's going to be a fascinating guy to watch here moving forward.
He's a smart player, he's got good quickness, he handles the puck extremely well and shoots it well. I think he's a guy that you're going to have to be patient with. Fans in San Diego and Anaheim will be excited because they've seen [Trevor] Zegras progress so quickly and they've seen [Jamie] Drysdale progress so quickly and they're wondering what's going on with Brayden Tracey, but I think he's a guy you're going to have to be a little bit patient with and that patience will pay off down the road.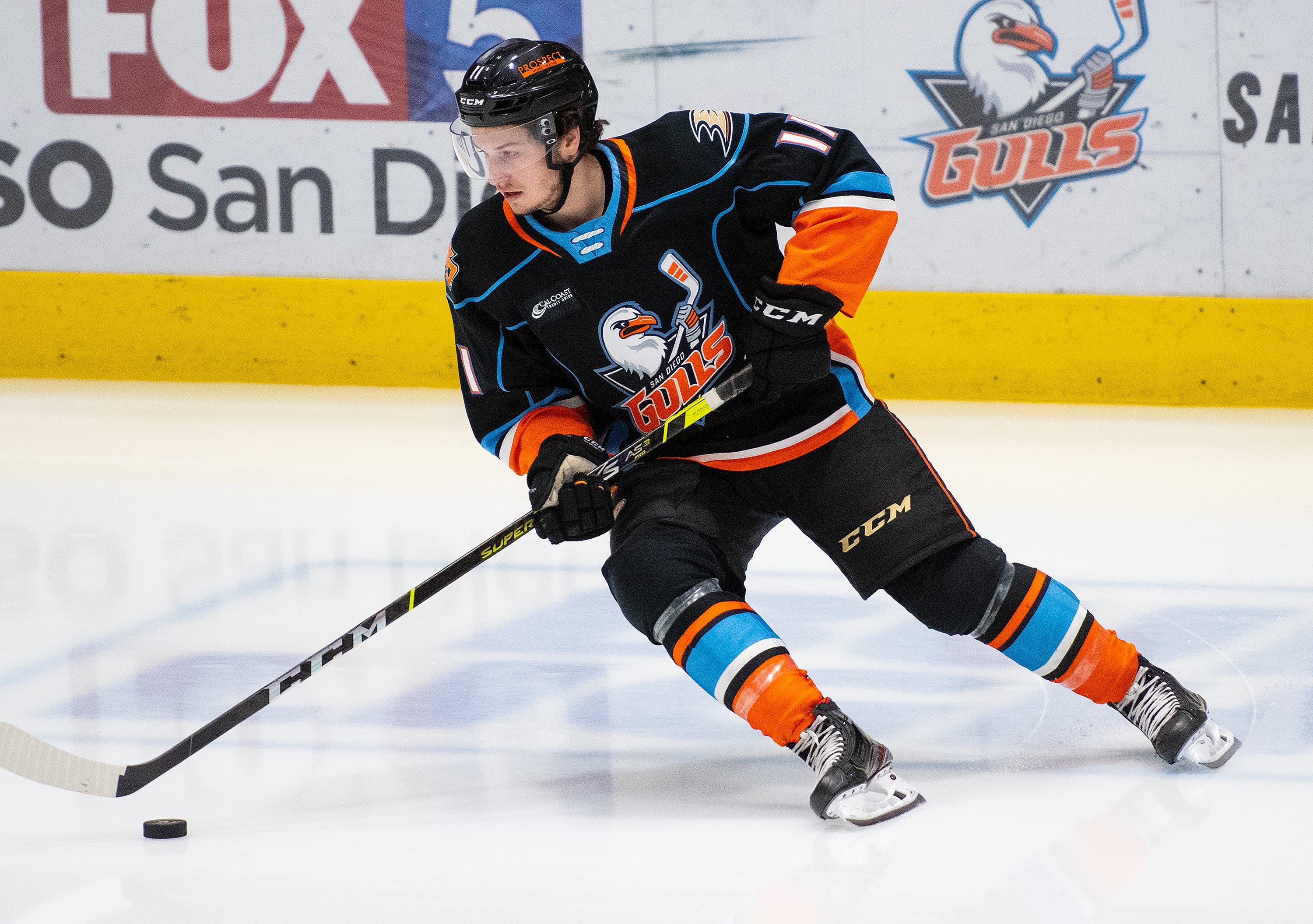 On Jacob Perreault:
[He's] one of those lucky guys who, if the OHL was playing, would've had to have gone back to the Ontario Hockey League. I mean lucky in the fact that you get initiated and baptized into the pro game earlier than you're supposed to. At that point, you're saying, "this is great experience, anything we get from this guy is going to be gravy". Same thing for Drysdale for that matter. Jamie has obviously progressed really quickly and I really highly doubt he looks back from here moving forward.
When it comes to Jacob, I think it was, (he was) one of the huge benefactors of not playing in the OHL due to the fact that he got to play so many game in the American Hockey League. Now, you look at those numbers and you talk about those 17 points – I think only three of them were goals and that's his calling card. That's what he's going to do; that's what he was drafted to do. He can't do it at that level, so you still find other ways to be impactful like we talked about. When it comes to Jacob's long-term prognosis, he's going to be a goal scorer. (He scored) somewhere over that 60-goal range in two years with Sarnia in the Ontario Hockey League. The other thing you like about him and what probably helped him transition to the American League so easily was the fact that he's got hockey in his blood. His dad Yanic played for a million years, coached him all the way up and so, he wasn't going to be rattled by what the pro game had to offer him. I think that helped make the transition a lot easier and a lot smoother for him. Now, we sit back and see whatever that threshold is. I do believe there's going to be an agreement that gets announced here shortly if it hasn't already, that players who are underage, will not have to go back to their respective junior leagues and they'll be able to continue moving forward with their careers in the American Hockey League. I think, for Jacob, that would be really big for him this year if he got a chance to back to the [AHL] and play in San Diego as opposed to going back to the CHL (Canadian Hockey League).
On Mason McTavish:
So, if I go and I look at the recent first-rounders, and I talk about Zegras, Tracey, Drysdale, and Perreault, you're looking at guys that have been drafted more for their skill or a particular skill. Whereas, in the case of McTavish, the one thing he brings to the table that those four others don't, is the physicality of his game. He's a really fascinating guy because he's pushed over the wing at 16 years old in Peterborough and scores 29 goals. Then, with the pandemic, he's forced to go back to Switzerland, which is where he was born. He didn't need a card to play there. He really started inserting himself quite well there, but he was still able to score goals and he was still able to play a more physical brand. He was able to do a lot more things than what he was able to show as a 16-year-old with Peterborough. That was kind of surprising that he was able to play in the men's pro league. He had such wild success there that in the confidence that once he returned to play for Canada (at the 2021 U-18 World Championship), it literally felt like he could do anything, and he performed with that same mentality.
He pretty much did whatever he wanted out there. Scouts came back from Texas after the Under-18 and said, "without a doubt, this guy is the biggest riser – he's a much different guy than what we saw at 16 [years old] Peterborough". The reason is, he added playmaking to the goal scoring, he added that physicality, he proved that yes, he can play center and he proved that he could play both special teams. So at that point, he's getting five-on-five minutes, he's getting high-leverage minutes on the (penalty kill) and on the power play, but he's producing at better than a point-per-game going back to his peer group after a similar rate, but albeit a little bit lower than a point-per-game, in Switzerland. Now, people are saying, "woah, wait a second, this guy is here is going to be able to play that brand of hockey that we just witnessed for the Stanley Cup". I do believe that recency bias had a significant impact on him because general managers come away from the playoffs and they're saying one year, "we have to go in small facets". Then, you're looking at L.A. and saying, "we have to be a big bruising team". You look at Pittsburgh and saying, "we got to go speed and skill". People look at playoffs this year and say, "wow, Tampa was not only able to grind it out with [Barclay] Goodrow and [Blake] Coleman, and the addition of [David] Savard in the back end, but Montreal was the same way. [Ben] Chiarot in the back end, [Shea] Weber was playing the hardest and most physical game that he's played in a long time". General managers are sitting there and saying, "wow, this is the type of guy we need to play this brand of hockey". I think Bob Murray looked and said, "we're not going to allow this guy to pass this year at number three".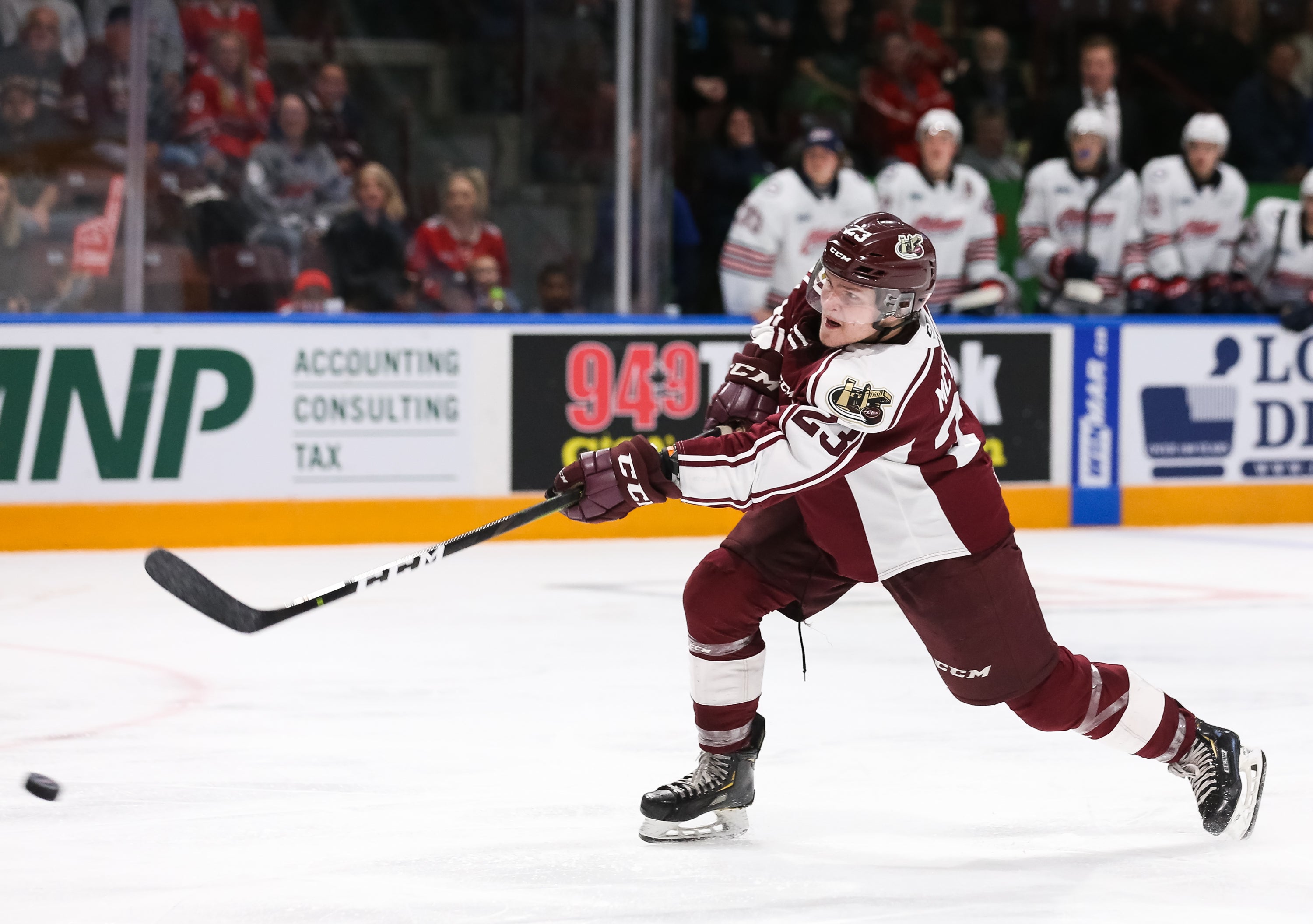 On Mason McTavish's fit in the Ducks organization:
I don't think it's a departure to say that he fits both those ideas – being the best player and the best fit. When those two things intersect for you at the draft, you've hit a home run, you make that no-brainer type of choice. It was preordained with [Owen] Power going first and everyone was pretty confident that [Matthew] Beniers was going second. McTavish was left there, but there was a host of other skilled players, but when I look at [the Ducks] forward group, and I think about [Isac] Lundestrom and I think about [Max] Jones, [Sam] Steel, [Max] Comtois and those types of guys, now the addition of Zegras, Perreault and Tracey, more skilled guys. You look at the evolution of the draft, when I get back to Comtois and Jones, it's a return to that here was Mason McTavish after going with some of those skill guys.
On impact players that could take the next step in their game:
Immediately, that player doesn't come to mind to me, other than maybe Quinton Byfield [with the Los Angeles Kings]. He's in a situation that's very similar to what we're seeing with Perreault, where he was supposed to go back to the OHL, but because they were shut down, he got to play in the American League and he might be exempt from going back so he would be a guy.
One guy I'm fascinated with, and it kind of gets back to the Ducks, is Owen Zellweger. I was really impressed with watching him at the Under-18s, speaking with his coach Dennis Williams. Not that I think he's going to make an impact this year, but I think he's a guy in two to three years down the road who will have a significant impact in San Diego. Not too long after that, he'll be able to shine in Anaheim. I really like this player, I love his work ethic, I love the way he transports the puck and gets back on pucks quickly. I'm a really big fan of his. To say that it's going to happen next year is obviously not the case for Owen, but I do believe in the not-so-distant future, he will be an impactful player.
On how he's spending time after the draft:
The draft was quite a grind, especially when they do their eight hours of live TV. You can't really take any time off there. You have to have your eyes on the prize and can't lose focus, but now it's just about what's going on in these World Juniors camps. It's keeping an eye on the Hlinka and what's going on over there as we get ready for the 2022 Draft. It's also about hanging out with the family, spending some time at the lake, playing some golf and coaching my son at baseball.
Back to All