NHL Draft 2020: Q&A With New Duck Jacob Perreault
Oct 6, 2020
By AJ Manderichio and Joe Spurrier/SanDiegoGulls.com
While preparing for the NHL Draft, right wing Jacob Perreault sought the advice of someone familiar with the league - his father, Yanic.
Perreault - who the Ducks selected 27th overall in the first round of the 2020 NHL Draft - leaned on those 859 games of NHL experience to prepare for the biggest moment of his hockey career.
"With my dad, him going through the draft, I think it's a really good experience," he told reporters on a Zoom call, wearing a Ducks hat and jersey. "I'm following in his footsteps. He's been through it - he knows what you need to do to get to the next level. He's given me a lot of feedback throughout my draft year, even through my whole life. This was the biggest year in my hockey career, running up to my draft. He's given me good advice after every single game. What I can improve on, what I need to do, what I am doing well. He's been a huge help in my career so far."
The newest Ducks' prospect discussed hearing his name called, joining the organization and more: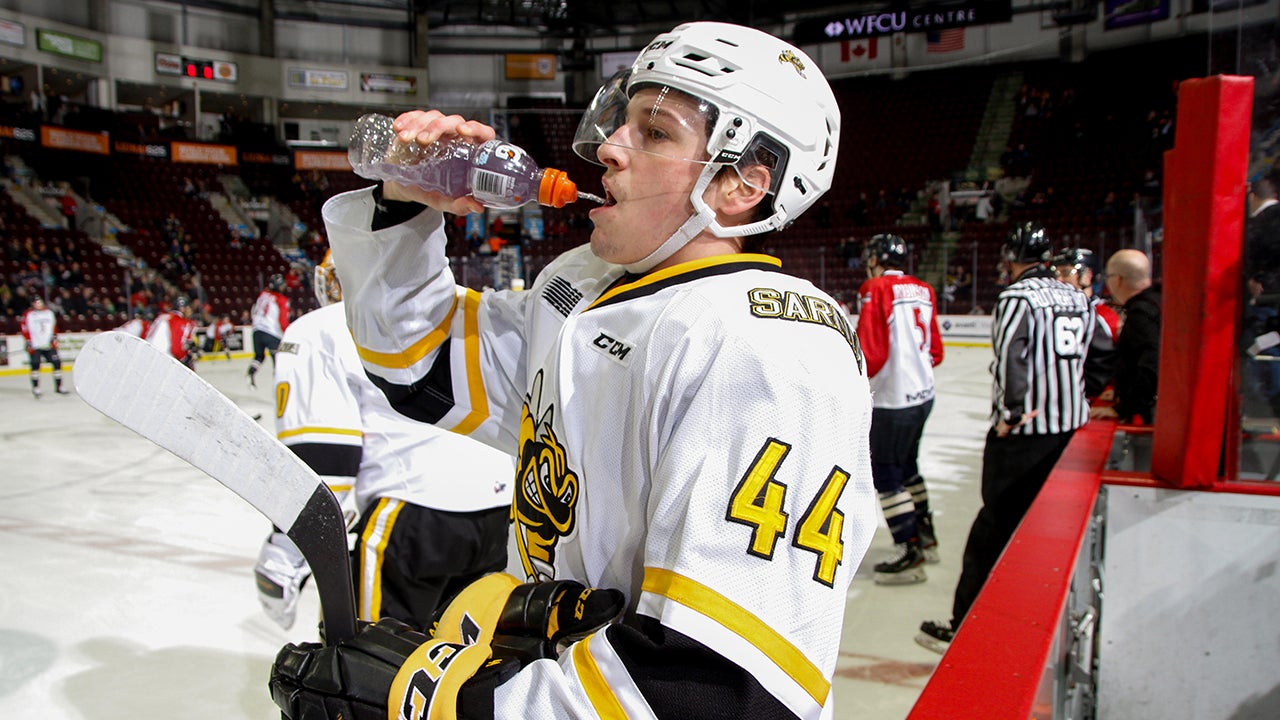 On the reaction after hearing his name called:
It was awesome. To experience that with my family, it was an unbelievable feeling. It was really crazy.
On areas of improvement:
Getting drafted is the fun part, but this is where the real work starts. It starts with improving my strengths and weaknesses. I had a really big summer. The thing I needed to improve the most at the beginning of the summer was the consistency with my starts and stops. I think, over the course of all these months we had, I used it as an advantage to work on my game, add dimensions to my game. I want to be a two-way player coming in next year, make a difference at both ends of the ice. I've been doing a good job over the summer improving in those areas, and obviously I need to do a good job improving in the future. The work starts now.
On pushing to make the NHL roster:
Obviously, this year is kind of different than other years, but I'm going to show up to camp ready. If they think is the best thing for me is to go back to Sarnia for another year, I'll go back and make the best of that opportunity to improve, develop and come back the next year ready to make the roster.
On developing his shot:
I have to give credit to my dad for that. Since I was a little kid, me and my siblings, we've always been fans of hockey, played it and been around it. That was our dream, to play in the NHL. Growing up, you always had a place to stickhandle in the basement and a shooting tarp to shoot pucks. I would go pretty much every day to improve my shot whether it was from different angles or different ways to get the puck off, whether it's a toe drag shot, fade shot or just a normal shot or backhand shot. I tried to add as many shots as I could to my game. If there was a defender on me, I didn't have as much time as I usually would shooting pucks in the basement. I could pull out different types of shot to confuse a goalie and the defense.
On being in the locker room when his father played:
(I was there) pretty often, I'm not going to lie. When you're young, you don't really remember much, but I'd say from the All-Star Game, I remember when my dad played, me and my older brother, we went to the dressing room and we had a fun time going in the workout room and the locker room, seeing all the players. With the Chicago Blackhawks, when my dad played there, we went in there a couple times and we used to wait for my dad, and a couple players would walk by and say hi. As a kid, you really look up to that and look up to those players, and I remember Pat was always pretending to sign an autograph on our foreheads with a sharpie, but he was just playing around. That's something that you really remember as a kid growing up. It's really special how much of an impact a player can make in your life.
On joining the Anaheim Ducks:
Yeah, I'm super excited. When I saw the Ducks were up, I had a feeling they were going to pick me and I'm very excited they did. They have a lot of young prospects that I've watched a lot the past couple years. I saw Trevor Zegras at the World Juniors and he's a really good player. Players like that, it's something I really look forward to seeing.
On his style of play:
I think I'm more than a one-dimension type of player. I have a good shot, I can beat the goalie one-on-one, I see the ice pretty well and I understand the game really well. That's something I really try to use to my advantage, to try to fake the goalie out with a fake shot and go across to one of my teammates for a goal or if it's a one-timer on the power play. I think I use my speed really well and I think I'm a really coachable player. I really want to get better and I'll take any advice that I can get. I'm really excited to get things started here.
Back to All