Gulls Broadcaster Andy Zilch Earns First Call Up To The Anaheim Ducks
Jan 5, 2022
By AJ Manderichio/SanDiegoGulls.com
On one of the biggest days of his career, San Diego Gulls broadcaster Andy Zilch found himself crawling up the 15 freeway, sitting in slow-moving traffic on an important drive to Orange County and Honda Center.
In a move not entirely unfamiliar to many of the players he highlights during games, Zilch found himself recalled by San Diego's National Hockey League affiliate, the Anaheim Ducks, and their television partner, Bally Sports, to call a Ducks game against the Vancouver Canucks. Usual television play-by-play announcer John Ahlers entered COVID protocols earlier in the week, leaving a void Zilch needed to fill.
"Nothing comes easy, ever," he said recently as he told the story. "It took me three-and-a-half hours to drive up from San Diego to Anaheim that day because of the rain, the traffic and the crashes that occurred. It was just a lot of anxiety that was building as I was driving 20 miles-per-hour on the highway."
He first learned about the opportunity a day before, receiving an email from an executive producer with Bally Sports. With his Gulls postponing their trip to Tucson because of COVID-19 protocols affecting the team, Zilch had the chance to jump on a once-in-a-lifetime opportunity. Those inside the San Diego organization gave him the green light, and Zilch started to prepare for his first full NHL game – and his television debut at hockey's highest level.
"I was generating excitement," he said. "I wasn't 100% jumping up and down until I got the email from Bally; that's when I was like 'Holy cow, this is real. This is going to happen; I'm going to call some NHL games on TV.'"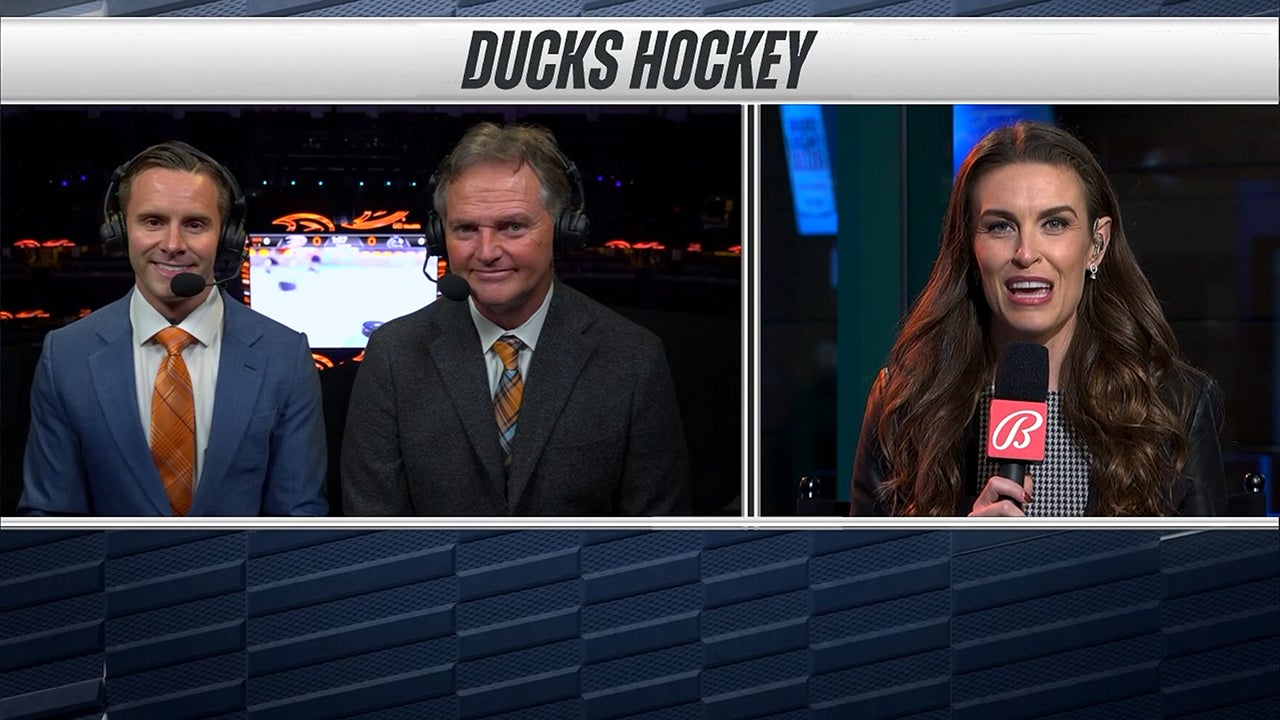 The opportunity is years in the making for the St. Louis native. Zilch started his career with the Greenville Swamp Rabbits in September 2012, getting his feet wet in the ECHL. From there, he earned his first American Hockey League opportunity with the Springfield Falcons, also getting his first taste of NHL action by calling the second period of a St. Louis Blues and Boston Bruins matchup during his time with the team. From there, he moved to the Utica Comets – the former AHL affiliate of the Canucks – before landing with the Gulls in August of 2018.
In his three-plus seasons with the team, Zilch added television play-by-play into his normal radio routine. He estimates he's done around 40 broadcasts on Fox 5 San Diego and CW Network San Diego. Those experiences opened the door for this opportunity.
"That's where it comes from, it feels like," he explained. "I don't think I would have received this opportunity had we not had televised games here in San Diego. Frankly, I'll take whatever the case is – radio or TV in the NHL, it doesn't matter to me."
Congrats @Andy_Zilch!

Incredible to see the voice of our team get his first call up to the Ducks.

Go get 'em tonight! https://t.co/yrH7FoldFf

— San Diego Gulls (@SDGullsAHL) December 30, 2021
Zilch eventually beat the traffic, arriving at Honda Center about 90 minutes before puck drop. He visited the familiar press box – his home during the annual Ontario Reign and Gulls preseason matchups – to drop off his things. The next challenge loomed – finding the television crew for their production meeting.
"I didn't realize Bally personnel met in a different area on the event level," he said. "I was getting ready to go to the media room where I saw a familiar face in (former Gulls Director of Public Relations and current Ducks Media & Communications Manager) Steve Brown. We made our greetings and he actually took me to where the TV people were. He actually helped me out, or else I would have been walking around Honda Center with a question mark above my head."
From there, Zilch explained things settled into a routine like those television games with the Gulls. After running through the pregame show with his new broadcast team, the Gulls play-by-play broadcaster strategized with his new color commentator, Brian Hayward. The Georgetown, Ontario native is a former goaltender and veteran of 357 NHL games with the Winnipeg Jets, Montreal Canadiens, Minnesota North Stars and San Jose Sharks, and served as a member of Anaheim's broadcast since the team's inception.
The experience proved invaluable to Zilch.
"Hazy is fantastic at what he does," he explained. "He's done NHL games at network (level), and I just let him roll with it. In our conversation, he said, 'Do you need me to do anything?' I said, 'No, I'm following your lead. You tell me what you want to talk about, how you want to talk about it' and from there on out, there wasn't really much discussion. I let him do his thing and he was great as always. He's a great person to do a game with because he certainly has all the knowledge and he was very well prepared.
"He was fantastic to work with. I can't really say enough about what he did for me, just because he's a solid pro."
As the seconds ticked down and Zilch prepared himself for his milestone moment, he admitted he didn't find himself drowning in a sea of thoughts.
"It was more so me saying, 'I can feel my heartbeat in my feet right now,' and I legitimately could," he said with a laugh. "I'd done it (broadcast on TV), I think we're getting close to 40 times in San Diego since I've been here, but I don't know – it felt different. You're at Honda Center, you're sitting next to Brian Hayward and you're about to describe the best players in the world going head-to-head in the NHL."
The experience alone provided a special moment, the culmination of Zilch's hard work to reach the highest level. His connection to both organizations made it even more special. Zilch fondly recalled the connection he made with Canucks goaltender Thatcher Demko – a San Diego native – during his time in Utica. Still close with the family, he received texts from Demko's parents telling him they tuned in to hear his call.
On the Ducks side, Zilch knows many of the Gulls graduates propelling Anaheim to a strong start this season. One of those players, former San Diego captain Sam Carrick, helped make the night even more memorable.
Late in the first period, with the teams searching for the first goal, Ducks defenseman Hampus Lindholm sent a pass from behind his net to center ice, where Nic Deslauriers chipped the puck to a streaking Carrick. He used his body to shield the puck from the Canucks defense, speeding toward the net and chipping a shot past the sliding Demko for his seventh goal of the season.
First NHL goal call for @Andy_Zilch?

Our former captain, @carrick_sam!

You absolutely love to see it 👊 pic.twitter.com/eCaHTF3fDt

— San Diego Gulls (@SDGullsAHL) December 30, 2021
"To see him rise to become a captain, graduate to the NHL, make an impact and grow, already that means a lot to me that his hard work is getting noticed," Zilch said of Carrick. "And then he goes out and scores on my first NHL game, I could not stop smiling. I even made a comment about that. Of course it's Sam. The guy who has the work boots on, the lunch pail, will do that. I was smiling for about five minutes after he scored."
While he noted the level of play is faster, Zilch didn't find too many differences with the NHL game. The overwhelming amount of statistical information – things like time on ice, etc. not usually available in his AHL broadcasts – added an extra layer of difficulty.
"The biggest difference for me is that I was overwhelmed with information," he explained. "I wanted to make sure I wasn't overloading the listener or the viewer. That was the biggest thing I was worried about. I feel I know how to call a game, so I wasn't really concerned about that. It was more so figuring out what I talk about or do I let Hazy talk here. Those were the bigger things because there's so much to talk about with NHL statistics."
Zilch credits Ahlers with helping him prepare for his moment. The two struck up a friendship in recent years, one which saw Ahlers take an invested interest in Zilch's development. Ducks radio play-by-play announcer Steve Carroll also played a role in his growth, and Zilch says the pair helped put him in a position to make his Ducks debut.
"For me to get that opportunity to replace someone of that magnitude – Johnny (Ahlers) is one of the best in the NHL, in my opinion, and I think that's pretty widely recognized," he said. "For me to slip into his shoes and keep the seat warm for two games, it means a lot for me. For him to have a welcoming hand to me, that means even more. The relationship I have with him and Steve Carroll – I don't want to cut that out, because Steve has also helped me out as well. Each of those two guys have been extremely helpful in my growth to get to where I am right now."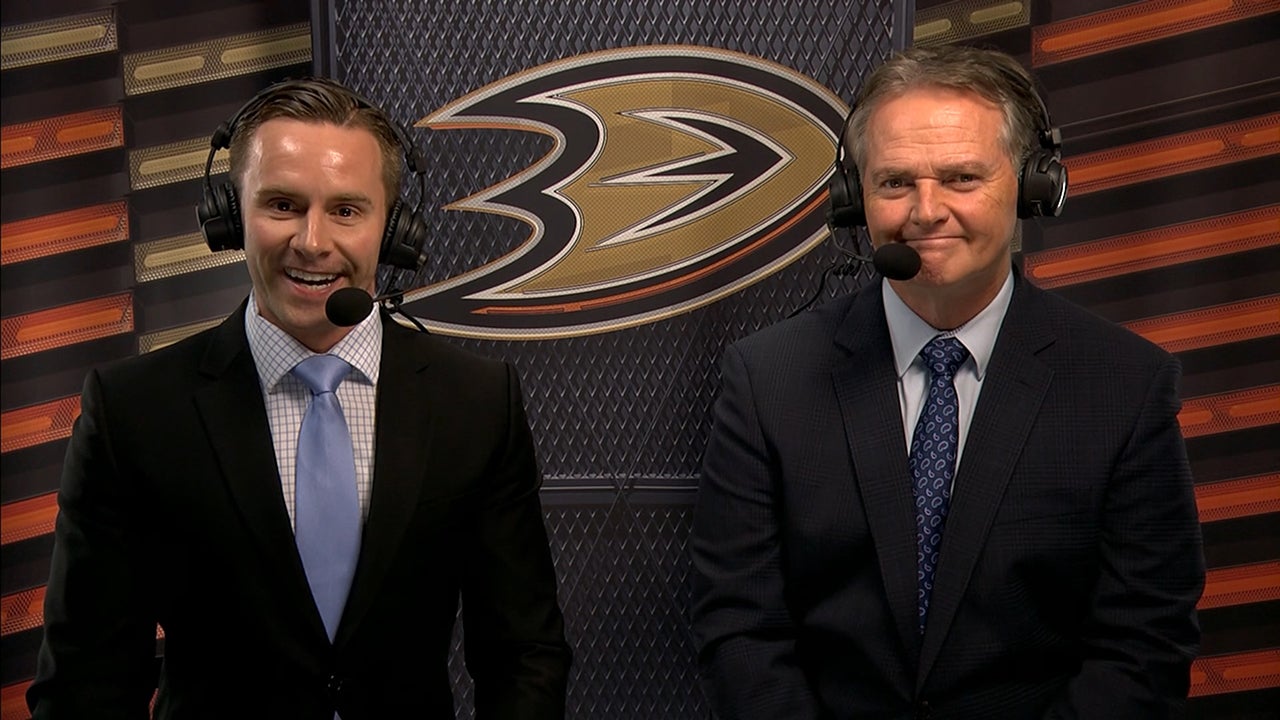 His stint with Anaheim lasted two games – the matchup with Vancouver and a New Year's Eve matinee against the Vegas Golden Knights. Back with the Gulls, Zilch feels his time in the AHL – and particularly with the Gulls – deserves its time to shine in the spotlight.
"It's the development league for everybody," he explained. "I don't feel like the AHL gets enough recognition outside of players for that, honestly. You look at trainers, coaches, social media, everybody. It's an easy step into the NHL.
"It also helps here in San Diego because we run our system like an NHL system. In terms of what we do operationally, it's an easier step to run into the NHL here in San Diego than any other organization I've been in."
On a good traffic day, the two organizations sit no more than 90 minutes apart. Zilch mentioned several co-workers making the jump from the Gulls to the Ducks – and vice versa – and how it fosters a unified sense of purpose, one which allowed him to achieve his NHL dream.
"I said this since day one, since I've been here, I've been with other organizations, and they haven't been logistically close at the time I was at those organizations," he explained. "I feel like here – and I'm not just saying this because I'm an employee, I'm saying this because it's true – this is the tightest organization that I've been with, hands down. I know a good majority of the people on that staff, and they know who I am in return.
"I feel like we're a stronger family here than any other organization I've worked with in the past, and I think that goes a long way to understanding who we are on both sides and what each person is doing for their hard work. And they rewarded me for that."
Back to All