2021-22 Season Review: Drew's Transition To Forward Delivers Immediate Payoff
May 23, 2022
By Andy Zilch/SanDiegoGulls.com
Hunter Drew approached the 2021-22 season at the crossroads of comfort and change.
"Getting into the lineup" can be a challenging task when a team has a plethora of depth at a certain position. The Anaheim Ducks defense corps boasted a high volume of quality players, forcing Drew to move to forward at the onset of the season.
This was not unchartered territory to the Kingston, Ontario native as he saw sporadic opportunities as a winger in the abbreviated 2020-21 season. Despite battling to remain in the lineup thar season, Drew appeared in 75% of the team's games but only at 33 appearances. He took the opportunity head on and used it to his advantage to continue to play for the Gulls on an everyday basis, his goal entering the first full professional season.
"Last summer, I got a call from Todd Marchant (former Anaheim Ducks Director of Player Personnel) and he said 'we got a lot of defensemen in the organization, I know that's what you've naturally been," Drew said in a recent interview. "We like what you've done up front and we want to see what you can do with a full year.' Really, I didn't have anything to lose. This year would be another development year and next year, get after it a little more. I just took it and ran with it."
It's been a story of abbreviated seasons for the defenseman-turned-forward, encompassing the COVID-19 shortened 2019-20 season and an abbreviated 2020-21 campaign. Drew dressed in 62 games between his first two seasons, amassing eight goals and 11 assists for 19 points and 62 penalty minutes. With the Pacific Division poised to play a full slate of 68 games in 2021-22, the newly-turned forward had an opportunity to enhance his game.
In addition to time at the forward position in the 2020-21 season, Drew briefly played as a winger with the Charlottetown Islanders in the Quebec Major Junior Hockey League. However, a full season "up front" provided some learning curves.
"I think along the walls was obviously something I haven't dealt with a lot as a defenseman," Drew recalled. "As a forward, I feel like you're involved in the play basically all the time. So, you read the game in a sense where it's like, 'okay, we need this right now' or, 'let's take a step back here and let the game figure itself out.; As a defenseman, you're always facing the game, but as a forward, you have to have your head on a swivel, so I just tried to work on that and take information a lot more."
Not only did Drew take that information but applied it constantly to appear in a career-high 64 games this season. He busted through with an extremely productive season totaling 17-21=38 points. The 23-year-old finished second on the team in goals and third among Gulls players in points. His hard style of play and fearless work against the opposition earned him a team-leading 134 penalty minutes. Boasting those numbers as a forward state the obvious - a fruitful move from defense.
"Yeah, I think it helped my career a little bit for sure," Drew said. "Obviously, I made some personal growth this year, like 17 goals. I'm obviously super happy with that, but next year, I want to push forward and try and move up."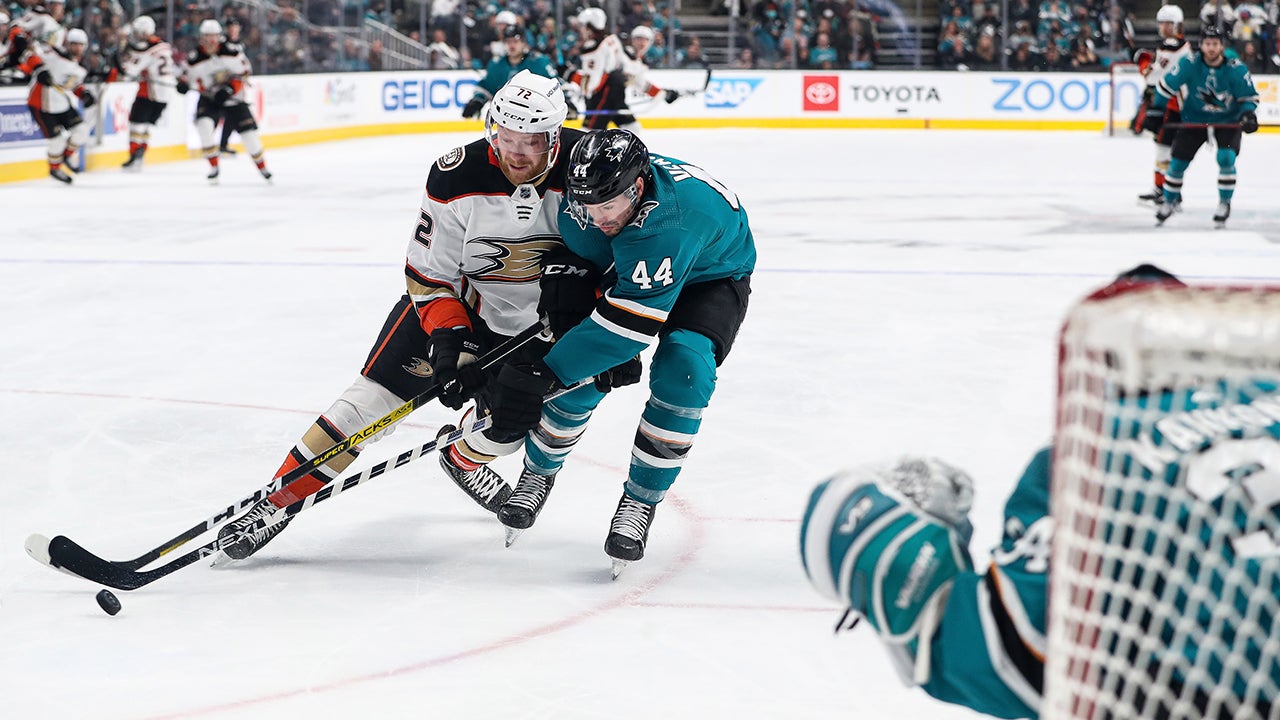 And "move up" was an accomplishment already achieved this past season for the forward. Drew received his first National Hockey League call-up on April 25 and skated in his first NHL game with the Ducks the next night in San Jose. He registered 9:23 of ice time and collected five penalty minutes after engaging in a fight with Jonah Gadjovich. He would also compete in the very next game in Dallas to conclude the Ducks regular season. When reflecting on the experience just a week later, Drew was still relishing the opportunity.
"Whirlwind, I guess you could say," Drew said when describing the sequence of events. "A lot of emotion, obviously. Just trying not to be seen out there in a good way and just dip my toe in the water and next year, I just want to make a big step to obviously play more games."
Drew is not content with two total NHL games and looks ahead to an offseason of preparation to compete for an NHL roster spot. He enters the final year of his three-year entry level contract after initially signing an AHL contract for the 2019-20 season. Entering his second season as a forward, Drew understands what he built and what it'll take to play at the highest level of professional hockey.
"Now, I know I've got to go home in the summer and work hard and get a lot faster and get a lot stronger," Drew said following his NHL stint. "I think I've got to work on puck skills a little bit. As a forward, you're touching the puck a little bit more and like I said, you're not seeing the game. I think a lot of video, looking at it from that perspective, is going to be different for me but I'm obviously excited for the challenge."
Drew's switch from the blueline to up front is nothing new to the division. In Abbotsford, Alex Kannok Leipert and Jett Woo achieved more time in the lineup with the effort of switching from defense to forward. Yanni Kaldis in Bakersfield, Peter DiLiberatore in Henderson and San Jose's Patrick Holway and Cole Moberg also saw the benefits of moving from the blueline. When referencing the Gulls, defensemen Nikolas Brouillard and Kodie Curran made appearances as forwards this past season. All these players value the fact they are competing in the AHL, regardless of their position. Drew is no different.
Originally drafted by the Ducks as a defenseman in 2018, he became another prime example of hard workers rising within the organization. Along with defenseman Simon Benoit, the pair of players continue to sustain strong work ethic behind the scenes and elevated their organizational tenure from one-year AHL contracts to three-year NHL entry level contracts. Not one player who has come through the AHL regrets their time to develop and prime their career for years to come, especially when examining the culture built in San Diego.
"Obviously, you want to move up, but there's no shame in being down here a part of this unbelievable organization," Drew said. "So, everyday coming to the rink is a blessing."
Back to All