Anaheim Ducks 2019 Training Camp is Underway
Sep 12, 2019
With training camps opening around the National Hockey League (NHL), hockey season is officially here. For many players, training camp is the first chance to show an organization's staff how they've developed over the offseason and prove they are ready to take the next step in their hockey careers. To begin Anaheim Ducks training camp there are 60 players (34 forwards, 19 defensemen and seven goaltenders), including 23 (16 forwards, six defensemen and one goalie) that played in at least one game for the Gulls last season.
In addition to the familiar faces that were with the Anaheim organization last season, the Ducks brought in several new players. One of those new players is Andrew Poturalski, who not only won the Calder Cup with the Charlotte Checkers last season, but also earned the Jack A. Butterfield Trophy as the most valuable player of the 2019 Calder Cup Playoffs. The third-year pro from Williamsville, N.Y. led all AHL players with 12-11=23 points and a +15 rating in 18 postseason games. Over the offseason, Poturalski decided that Anaheim was the best place to build off an impressive conclusion to the 2018-19 season.
"Winning helps at any level. Guys want winners on their team so for us to be able to do that last year was huge for every guy on that team," said Poturalski. "A lot of guys have moved on and gotten good contracts, good deals and opportunities. That's what it takes at this level, getting an opportunity. To win a championship, you hopefully put yourself in the right spot to get that opportunity, to work hard and maybe get to the next level."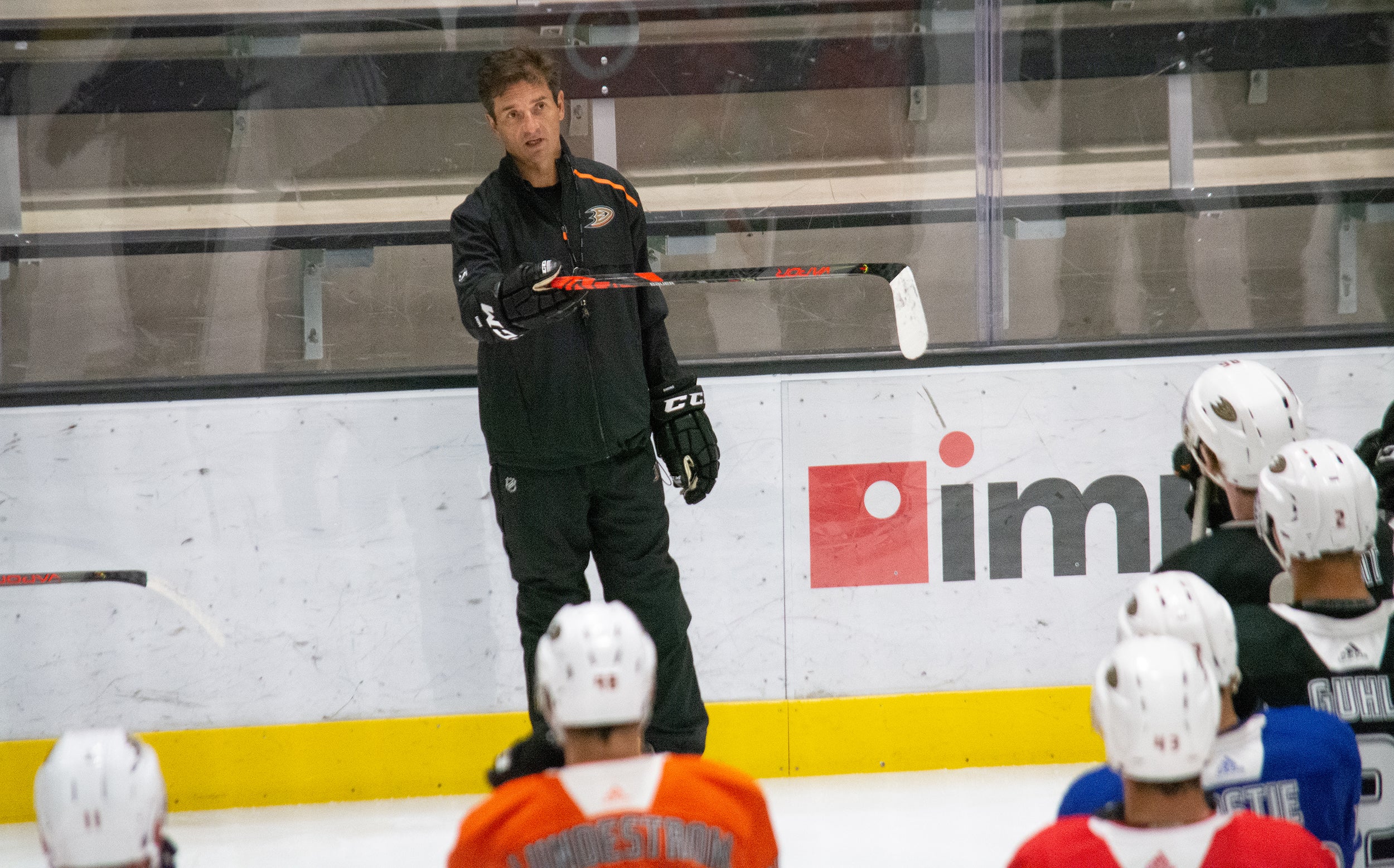 As former Gulls head coach Dallas Eakins earned the Ducks head coaching position this offseason, there was an open spot in San Diego. Kevin Dineen was named the head coach for the Gulls a month later and the returns to the Anaheim Ducks organization. Dineen spent six seasons as head coach of the then-Ducks affiliate, the Portland Pirates (AHL) from 2005-11, leading his teams to a 266-155-59 record in 480 games. Just as the case is with many of the incoming players, today marked the first day that Dineen joined players on the ice at Great Park Ice in Irvine.
"Well Dallas has certainly made it a very collaborative effort, giving us a real voice and a chance to give feedback," said head coach Kevin Dineen. "Day one is always a challenge. First, you have so many bodies and new faces, you're spending a little time putting the names to the faces and then, all of a sudden you see them on the ice."
"Certainly, some talent sticks out with players you've seen on whether its TV or studied film over the course of the summer," added Dineen. "It's nice to be out there. We're working on a few system things early and I thought it was a really good start for day one."
Another new face to the organization spending his first day with new teammates on the ice is forward Alex Broadhurst. The veteran forward signed a one-year contract with the Gulls last month and added a Calder Cup championship with Cleveland in 2016. Broadhurst had totaled 70-121=191 points in 333 career AHL games spanning over six seasons of professional hockey.
"I think the biggest part when we won it was that we stuck together as a team, everyone meshed really well. Everyone did their jobs and bought in," said Broadhurst. "I think that is something that's very important to winning a Calder Cup. Everyone buying into it with the coach's system whether it's blocking shots or getting pucks deep and doing the little things right. Hopefully we can do that same thing here."
Back to All