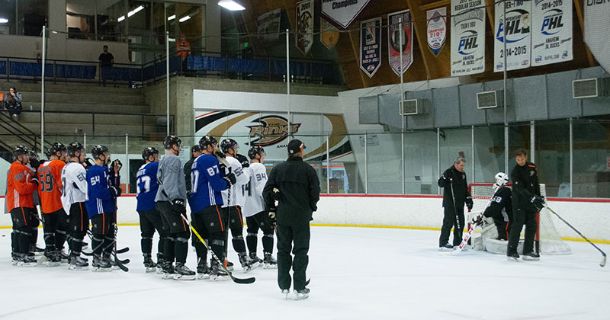 Gulls Announce 2018 Training Camp Roster, Begin Camp Today
Sep 24, 2018
Sept. 24, 2018
The Gulls will take to the ice today for the first time in 163 days as the club's 2018 Training Camp is set to get underway for the first of three-on-ice sessions at THE RINKS - Anaheim ICE. Over the past three days, the Anaheim Ducks have assigned 13 players to the Gulls which fills out the start of camp with eight forwards, four defensemen and one goaltender.
Six players on today's roster return from last season's Gulls roster (Alex Dostie, Giovanni Fiore, Mitch Hults, Deven Sideroff, Keaton Thompson and Chris Forney). The addition to the roster are Anaheim NHL Draft selections left wing Jack Kopacka (4th rd., 93rd in 2016), in addition to free agent signees Terrance Amorosa, Scott Moldenhauer, Tyler Soy and Ben Thomson round out the skaters to begin training camp, in addition to goaltender Angus Redmond, who enters his second professional season following a season split between Utah and Toledo in the ECHL.
View the Gulls 2018 Training Camp Roster
Luke Gazdic is the only professional tryout (PTO) joining the Gulls for camp. The 29-year old forward spent the 2017-18 season with the Stockton Heat, appearing in 61 games while collected one goal and one assist in addition to 59 penalty minutes (PIM). The 6-4, 225-pound native of Toronto, Ontario has collected eight points (5G/3A) in 147 games of NHL experience with the Edmonton Oilers and New Jersey Devils, and has appeared in 370 career AHL games with Stockton, Bakersfield, Oklahoma City and Texas, earning 69 points (32G/37A) with 582 PIM.
The Gulls will host on additional on-ice sessions in Anaheim on Wednesday, Sept. 26 before the first of two exhibition games against the Ontario Reign, the first coming on Thursday, Sept. 27 at Citizens Business Bank Arena (10 a.m.). The two teams will then close out their preseason schedule on Monday, Oct. 1 at Honda Center (7 p.m.) in a game free to the public.
2018-19 TRAINING CAMP SCHEDULE (Sept. 24-Oct. 1)
<div class="table-1">
<table width="100%">
<thead>
<tr>
<th align="left">Date</th>
<th align="left">Event</th>
<th align="left">Time</th>
<th align="left">Location</th>
</tr>
</thead>
<tbody>
<tr>
<td>Monday, Sept. 24</td>
<td>Practice</td>
<td>10:30 a.m. – 12 p.m.</td>
<td><em>THE RINKS</em> – Anaheim ICE</td>
</tr>
<tr>
<td>Tuesday, Sept. 25</td>
<td>No Practice</td>
<td>N/A</td>
<td><em>N/A</td>
</tr>
<tr>
<td>Wednesday, Sept. 26</td>
<td>Practice</td>
<td>10 a.m. – 12 p.m.</td>
<td><em>THE RINKS</em> – Anaheim ICE</td>
</tr>
<tr>
<td>Thursday, Sept. 27</td>
<td>Preseason Game at Ontario</td>
<td>10 a.m.</td>
<td><em>Citizens Business Bank Arena</td>
</tr>
<tr>
<td>Friday, Sept. 28</td>
<td>Practice</td>
<td>10:30 a.m. – 12 p.m.</td>
<td><em>THE RINKS</em> – Poway ICE</td>
</tr>
<tr>
<td>Saturday, Sept. 29</td>
<td>Practice</td>
<td>10:30 a.m. – 12 p.m.</td>
<td><em>THE RINKS</em> – Poway ICE</td>
</tr>
<tr>
<td>Sunday, Sept. 30</td>
<td>Practice</td>
<td>10:30 a.m. – 12 p.m.</td>
<td><em>THE RINKS</em> – Poway ICE</td>
</tr>
<tr>
<td>Monday, Oct. 1</td>
<td>Preseason Game vs. Ontario</td>
<td>7 p.m.</td>
<td><em>Honda Center (Anaheim, Calif.)</td>
</tr>
</tbody>
</table>
</div>
Back to All