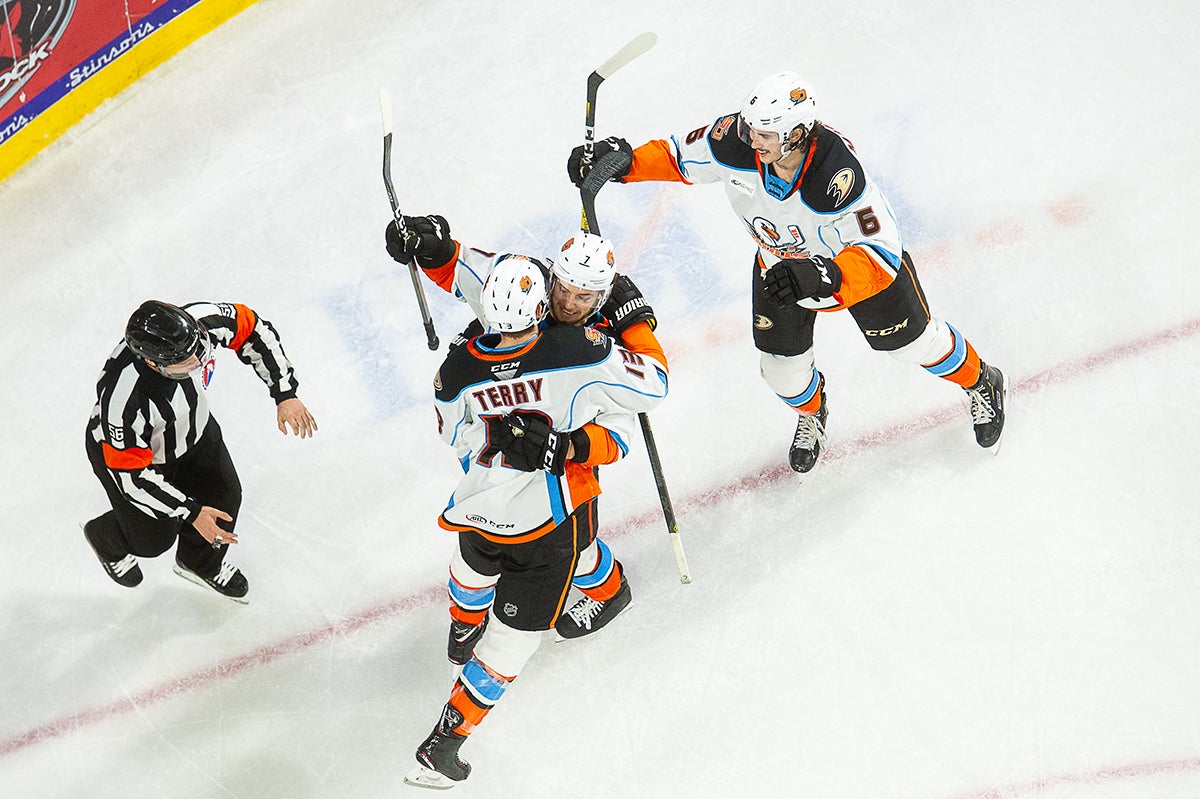 Gulls Grads: Troy Terry
Nov 16, 2020
SanDiegoGulls.com provides an in depth look at the organization's young talent that have made an impact on the ice with the Gulls in San Diego and their transition to the Anaheim Ducks. This five-part series highlights Gulls Grads and the development of players through the organization's ranks to earn a full-time NHL role with the Ducks.
By Andy Zilch/SanDiegoGulls.com
Troy Terry has quite the resume for a 23-year old: NCAA champion, U.S. Olympian, and a player on the precipice of being an NHL regular.
Terry burst onto the professional hockey scene in 2018-19, making an immediate statement in the American Hockey League (AHL).
The forward exploded with an 11-game point streak to begin his career, totaling 7-9=16 points. He first donned a Gulls sweater on Oct. 19, 2018, scoring two goals and collectiong three points, including the game-winning tally, in his AHL debut.
During the point streak, he claimed numerous feats, including the most consecutive goals by a rookie (four games) and an assist in his first six pro games, tying a Gulls rookie record. His 11-game point streak still stands as a team record.
After the streak ended, Terry wasted not time starting another, posting another nine-game point streak shortly after. His scoring prowess earned him recognition a spot representing San Diego at the AHL All-Star Classic. The forward had to pull out the midseason festivities, and for a good reason - a recall to the Anaheim Ducks.
During that stint, the Denver, Colo. native potted his first NHL goal on Jan. 19, 2019 at New Jersey. Not only did he tally his first NHL goal, but Terry also registered an assist for his first multi-point game as a Duck. This was a feat the forward aimed to accomplish since his NHL debut on March 27, 2018, when he joined the NHL ranks following his collegiate career at the University of Denver.
During the second half of the 2018-19 season, Terry saw more action in the NHL and finished the season with 12 points (4G/9A) in 32 games. He tallied back-to-back three assist games in early March of 2019, becoming the first Ducks rookie to ever accomplish the feat. He finished his first AHL season at a solid point-per-game pace with 41 points in 41 games, tied for third-best point production on the Gulls despite playing in fewer games than several of the team leaders.
Unfortunately, Terry couldn't join the Gulls for their 2019 playoff run. In a late-March matchup in Calgary, the forward blocked a Mark Giordano shot. He fractured his leg, taking him out of action.
The 2019-20 season saw Terry earn an even greater workload with Anaheim, skating in a career-best 47 games as the COVID-19 pandemic ended the Ducks' season in early March. His point total increased from the previous season as well, notching 4-11=15 points.
A late-season reassignment to San Diego brought Terry back to the AHL. He earned top minutes, looking to find his scoring tough and become a leader, asked to put his team on his back when it needed it.
He proved up to the challenge.
In just 14 games in 2019-20 with the Gulls, Terry registered 16 points (7G/9A), including a four-point game on March 11 at Tucson, where he scored two goals and added two assists in the final game of the AHL's season. This came after starting his campaign with San Diego on a five-game point and assist streak (2G/7A) from Jan. 10-18, 2020, and a Feb. 29 game at San Jose where he willed the team to an overtime win with two third-period goals to force the extra session.
With the Gulls, Terry holds team records in points-per-game (1.03, 57 points in 55 games) and goals-per-game (.42, 23 goals in 55 games). He totaled 28 points (8G/20A) in 81 career NHL games with the Ducks. The forward has yet to participate in a professional postseason game but hopes to change that in the upcoming season.
On July 14, Terry signed a three-year deal with the Ducks to ensure he will continue the path of a becoming a mainstay in the NHL and an impact player with Anaheim.
Selected by the organization in the fifth-round (148th overall) of the 2015 NHL Draft, Terry is one of several players to be recognized as Gulls Grad because of his dominate play in the AHL.
Back to All