A Look Back: Hockey's Return to Southern California
The Gulls are back as 2015 saw the highest level of hockey unveiled in America's Finest City
Sep 28, 2020
In a four-part series, SanDiegoGulls.com provides an in-depth look at how the Gulls returned to San Diego in 2015, how the team's launched its brand, the inaugural AHL game in San Diego and the creation of the team's practice facility in Poway. The series will cover the pillar moments and hear from key members of the organization shaping the franchise from day one.
By Steven Brown and Joe Spurrier/SanDiegoGulls.com
Five years ago, the Gulls prepared to take flight in their inaugural American Hockey League (AHL) season in San Diego.
Years of planning culminated in a press conference at SAP Center on January 29, 2015 to announce hockey would return to San Diego. The behind-the-scenes preparation before the Gulls would step on the ice involved more than meets the eye.
First, the city needed a team.
The Anaheim Ducks, along with four other National Hockey League (NHL) franchises, relocated their primary development affiliates in the AHL to the west coast. The goal - to improve prospect development with their AHL clubs closer to their parent NHL club.
Read the official announcement – Ducks launch AHL franchise in San Diego
The Ducks purchased the Norfolk Admirals AHL franchise and relocated it from Norfolk, Va. to San Diego, while the Los Angeles Kings (Ontario), San Jose Sharks (San Jose), Calgary Flames (Stockton) and Edmonton Oilers (Bakersfield) relocated affiliates to form the newly-created AHL Pacific Division.
"With five new AHL teams in the state, today is a landmark day for hockey in California," said Ducks Owners Henry & Susan Samueli in January 2015 in an official announcement. "We've long been excited by the idea of San Diego, which has a successful track record for supporting hockey, as our AHL home. We are extremely pleased and proud to bring the hockey back to the market."
The Anaheim Ducks have established ties to San Diego, with their first primary affiliate from 1993-95 none other than the International Hockey League (IHL) Gulls. In 2004-05, the Gulls served as the ECHL affiliate of the NHL club.
That late January morning in 2015 was the first public confirmation of the long-rumored westward move by the AHL. In a move many years in the making, it all came to fruition.
Comments from Ducks Executive Vice President and General Manager Bob Murray and Chief Executive Officer Michael Schulman to ring in the historic day in California hockey history.
"This is an unbelievable day for hockey in California, for the Anaheim Ducks organization and the city of San Diego," said Ducks Executive Vice President and General Manager Bob Murray. "Years ago, I can remember when the Samuelis bought the team in 2005. On our first week on the job, Brian Burke and I looked at each other and knew we had to move our minor league team out here. So this is a dream come true, and I thank [NHL Deputy Commissioner] Bill Daly, [NHL Commissioner] Gary Bettman and [AHL President & CEO] David Andrews for helping us make this happen. To my fellow GMs for sticking together, as competitive as we are, for this to happen is an amazing thing. We all have the same vision, and hopefully the same result for all of us coming out of this."
Following the announcement, the team came to life behind the scenes as the organization prepared to move its affiliate 2,700 miles from Norfolk, Va. to San Diego.
FROM EAST TO WEST
The simple notion was the Norfolk Admirals would move west. However, it wasn't as cut and dry for the organization to simply pack up and move. Anaheim's prospects were still in the midst of the 2014-15 AHL season with three months to go.
"Obviously in today's day and age word got out that it was going to happen, and I know there was a negotiation going on with the people who owned the Norfolk franchise to purchase that franchise," said Gulls General Manager Bob Ferguson, who was the then Assistant General Manager of the Norfolk Admirals. "When it finally happened, when the announcement was made, we expected a 'uh oh, they are leaving town on us', but it didn't happen that way. The people in Norfolk continued to support us. The group there, the businesspeople the management and everything were all very supportive of it. It really made the transition easy."
"We had a plan where what we wanted to do was bring in a combination of folks from various backgrounds and experiences," said Segal. "We wanted people with American Hockey League experience, we wanted people from San Diego and we wanted people from the parent club, the Anaheim Ducks, to come down. If you looked at our really early hires, we were able to achieve that. I think Mike [Schulman] and the Samuelis really had a lot of vision in saying let's really get someone on the ground, making connections and building demand, capacity and capability in the market so that if this moves forward, we have a little bit of a head start."
Segal built the team as a one-man band, running a new AHL franchise leading up to the January announcement and planning for the road ahead - launching the team name, logo, brand, and an event unveiling it all.
"At the time, Ari was a team of one. He started to ramp up and hire people in 2015, but kind of in that early strategic thinking, he was basically relying on Ducks employees to bounce ideas off of him," said current Gulls President of Business Operations, Matt Savant. "Make no mistake, he was leading the charge and he did a terrific job building the foundation that is the Gulls today. I give Ari all the credit in the world for the big-picture thinking that he put into this team and a lot of the success that we all stand on is because his hard work and thoughtfulness during those early days."
In less than three days, all player equipment, bags, gear and other important supplies shipped to Southern California. Once the Ducks 2015 postseason run to the Western Conference Final ended, it was time for the equipment staff to start preparing for the 2015-16 season.
"Within that time the NHL postseason ended, we had development camp starting, and I was in San Diego unpacking stuff at the sports arena," said Brayfield. "They were doing construction on the arena locker room, our practice facility was still in progress, and in the end of July we had a few weeks to get our stuff settled after development camp. It took everyone from the Gulls coming in and our experience, and working with the arena to work for the same goal to get to the finish line of how we got there. We all had to learn how to work together to put a great product on the ice."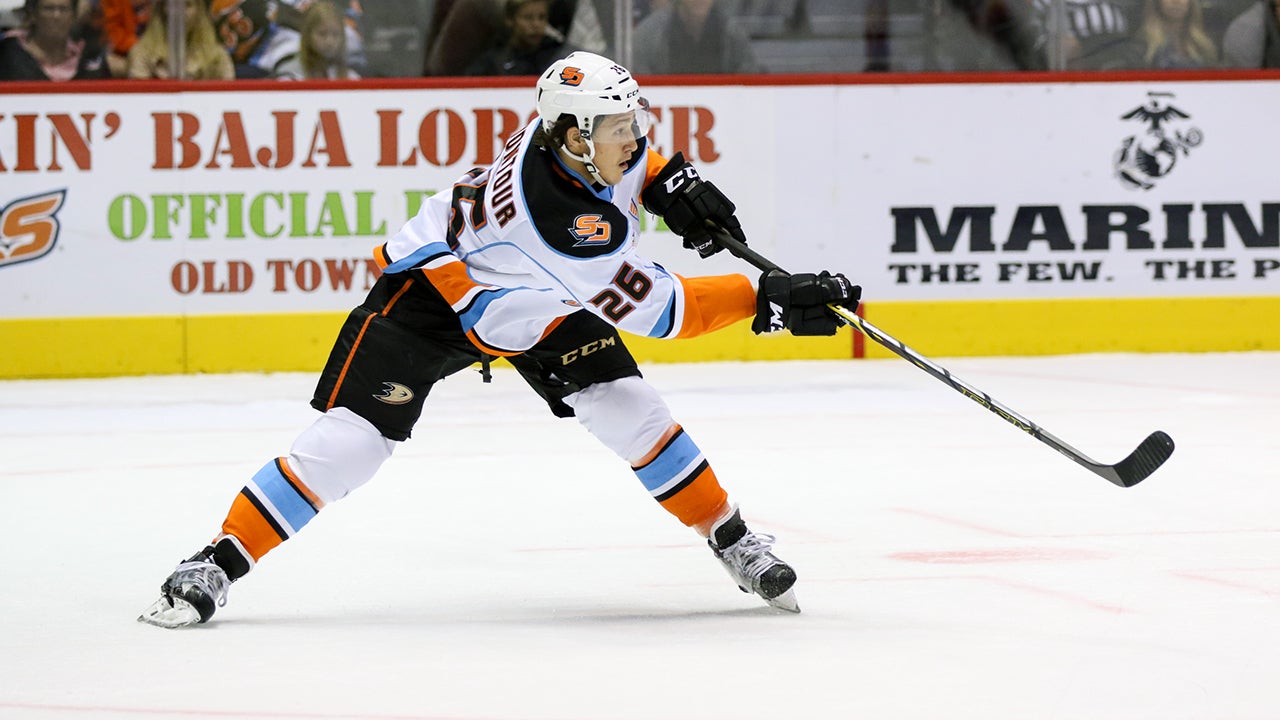 A NEW CHAPTER
There was more than just equipment to move, as not everyone made the trip from Norfolk to San Diego. In all, only 11 players who appeared for Norfolk in 2014-15 also appeared in San Diego's inaugural game on October 10, 2015.
Former Ducks' prospects Brandon Montour and Jaycob Megna were two of those players. Each blueliner took advantage of the change of scenery and proximity to the Anaheim Ducks to advance their hockey career, as they would quickly become household names in San Diego.
"I had heard the team was going to move but had never been to San Diego," recalled Montour. "Norfolk was new to me – the whole thing was a new experience. Guys were getting called up, it was a tough route, flying out across the country. It was a big process for call ups. I think (after the relocation), California living and being so close to the NHL team was more comfortable for everyone. Staff from up top aren't wasting days or a week traveling to see the farm team, it's just in hindsight the smartest thing the AHL and California teams and NHL California teams have done to be so close to the parent."
Montour entered his professional career at the end of the 2014-15 season with Norfolk, but paved his way to becoming an AHL All Star in San Diego's inaugural season before becoming a full-timer in the NHL. After a full season with the Gulls, Megna earned his NHL debut with Anaheim and would be a contributor for the Ducks and Gulls for years after.
"I remember just being in Norfolk that year when I think it was Devante Smith-Pelly, Emerson Etem, [William Karlsson]. I think one time, [Devante] got called up and by the time he landed, they didn't need him anymore so he flew five hours across the country. So you've heard of the headaches and stuff like that. Obviously, when you get called up, it doesn't matter, you're ready to go no matter what, but the hassle and all that was noticeable when we were in Norfolk. For everybody it was a sigh of relief and it was a pretty cool thing that you were right up the road."
As eluded to by ownership and Murray, the logistics of an AHL team on the East Coast just didn't work. The move west helped in every facet of the business, both on and off the ice.
With the team established in its new city, the Gulls needed a leader behind the bench. After making the decision to replace Jarrod Skalde, Murray made one of the most important hires for San Diego.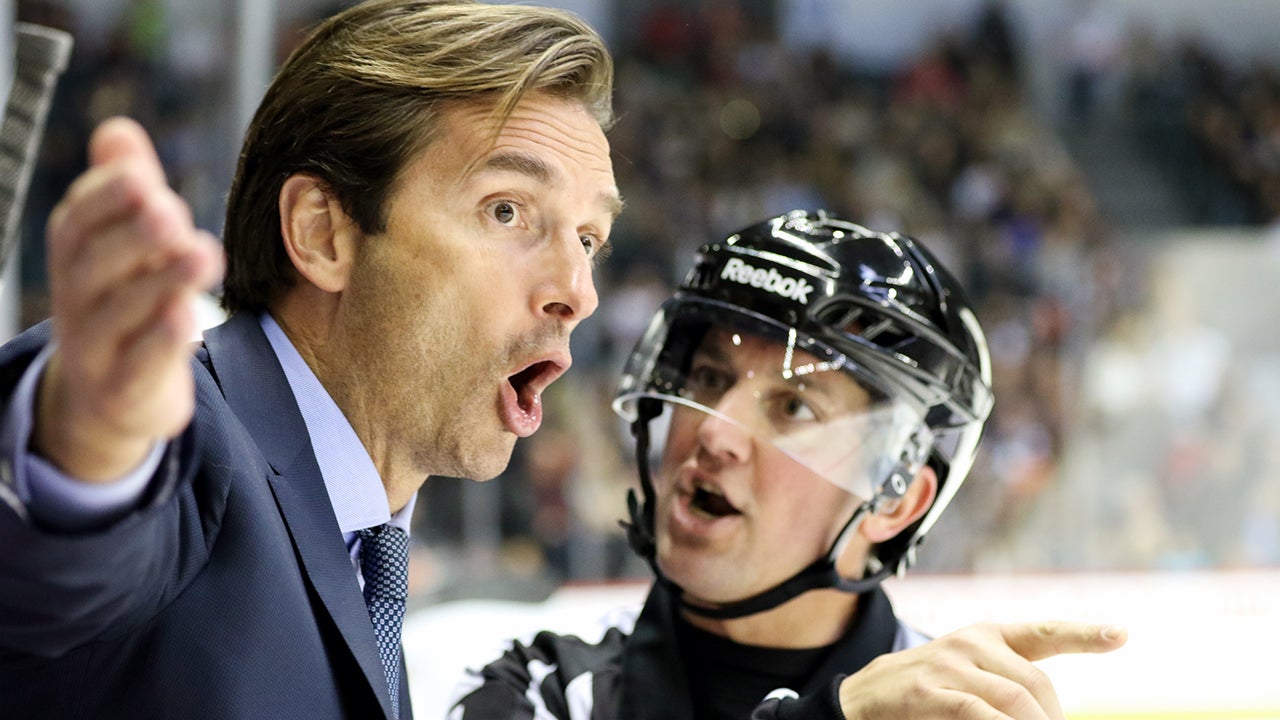 Enter bench boss Dallas Eakins. On June 26, 2015, the Ducks named Eakins the first head coach of the AHL Gulls. Murray noted Eakins brought experience in hockey at all levels, both as a player and head coach.
Dallas Eakins Named First Head Coach in Gulls History
There's a big fire burning to get back into it and have an influence on some players," Eakins said in an interview with the San Diego Union-Tribune following his hire. "It's something I'm extremely passionate about, and something I take extremely seriously. This is a great opportunity to not only win some hockey games but to build some men, and to help these guys make an impact in their community."
Eakins made mention of the AHL as a league where you get to spend a lot of time with the players and the ability to mentor them on a one-to-one basis, with their end game to advance to the NHL.
"From day one, I think Dallas met with every player for probably an hour individually which I had never had with a coach," said Megna recalling his first year under Eakins in San Diego. "I didn't know any better pro-wise because I don't know how many do that at all so that was a big thing. It wasn't even hockey related, it was just getting to know you and caring about you as a person. That kind of set the groundwork for what he wanted to do."
"I'm a real process coach, and I don't want them to be anxious or find the mountain they have to climb to get to the NHL too intimidating," Eakins added.
Eakins became one of the most successful coaches not only in the AHL's Pacific Division, but also among the Anaheim Ducks all-time affiliates. His style of coaching changed more than just the team's success; it altered player's lives.
"People don't know this, but he has really turned people's lives around by coaching them to a more healthy and balanced lifestyle," added Segal. "He was one of the first people to embrace analytics, but he did it in a way that was not adversarial but instead kind of brought people along. He practices what he preaches. He would bike from his house in Poway to the Valley View Casino Center for practice. Anything he asked his players to do in practice, he would be right there with them. He's a Teddy Roosevelt kind of leader – a follow-me style leader."
Eakins spent a 16-year playing career across 18 professional teams during his nomadic odyssey, including 120 NHL contests and 882 minor league games (AHL and IHL). His coaching resume of two seasons as an NHL head coach and six as an AHL head coach were necessary to a team starting from scratch.
Eakins was a key reason for the immediate success of the Gulls because he created a platform for the organization on and off the ice. Under his guidance, 59 players appeared in games for both the Ducks and Gulls, while coaches, hockey operations and more also graduated to work with the NHL club.
On top of the hockey accomplishments, Eakins made significant and long-lasting contributions to the San Diego community.
"The proudest part is how our team, from the organization to the players to the staff, has really integrated themselves in the community," said Eakins during an interview with the San Diego Union-Tribune, looking back on the first few years of the Gulls. "We stressed that from day one. We felt a lot of love coming in right away. I wasn't sure how that was going to go but this is a passionate market."
That passionate market inspired the Gulls to become a hockey club dedicated to focusing on both winning on the ice and serving the community off it.
As a community-minded head coach, Eakins ensured his players were a part of the fabric of San Diego and made time for the many events hosted or attended by the San Diego Gulls Foundation. The group of players participate in or attended more than 100 community events each season, donating their time, and their personal funds, to make an impact in San Diego.
The culture of giving back helped establish the Gulls as community leaders. That commitment inspired the club to establish the Gulls Foundation during their inaugural season. Through its five-year history, the Foundation donated more than $521,000 in lifetime gifts to support the San Diego community and continues taking strides in its local outreach.
What started as an idea turned into a massive success as the Ducks primary affiliate found a true home for the foreseeable future. Thanks to strong ownership, coaching, players and staff, the Gulls and Ducks bond continues to grow stronger and is one of the premier examples of the success and growth of hockey in Southern California.
---
SanDiegoGulls.com will continue its four-part series of pillar moments on how the Gulls flew West to bring hockey back to America's Finest City. Part Two will take an in-depth look at the creation of the team's brand, including the San Diego HockeyFest that drew 8,500 enthusiastic hockey fans, the unveiling of the logo and the creation of the team's first uniforms.
Back to All