Top Moments of the 2018-19 Season: 5-1
Jul 12, 2019
Top Moments 25-21: Click here
Top Moments 20-16: Click here
Top Moments 15-11: Click here
Top Moments 10-6: Click here
5) Gulls Set Club Record Eight-Game Win Streak and 15-Game Standings Point Streak
On December 14, the Gulls were heading into a matchup against the Bakersfield Condors with an 8-11-1-1 record. San Diego was dead last with 18 total points and they ranked third worst in points percentage (0.429). Despite forcing the game to a shootout and gaining a point in the standings, the Gulls fell to Bakersfield.
What was impressive, is what followed. The shootout loss began a club record 15-game standings point streak, Dec. 14-Jan. 16 (12-0-1-2), surpassing their previous record of 12 games with a point, Jan. 7-Feb. 7, 2017 (11-0-0-1). San Diego scored 62 goals over the 15-game span, outscoring opponents by a 23-goal margin. The Gulls iced 38 different skaters during the run (23 forwards, 12 defensemen, and three goaltenders).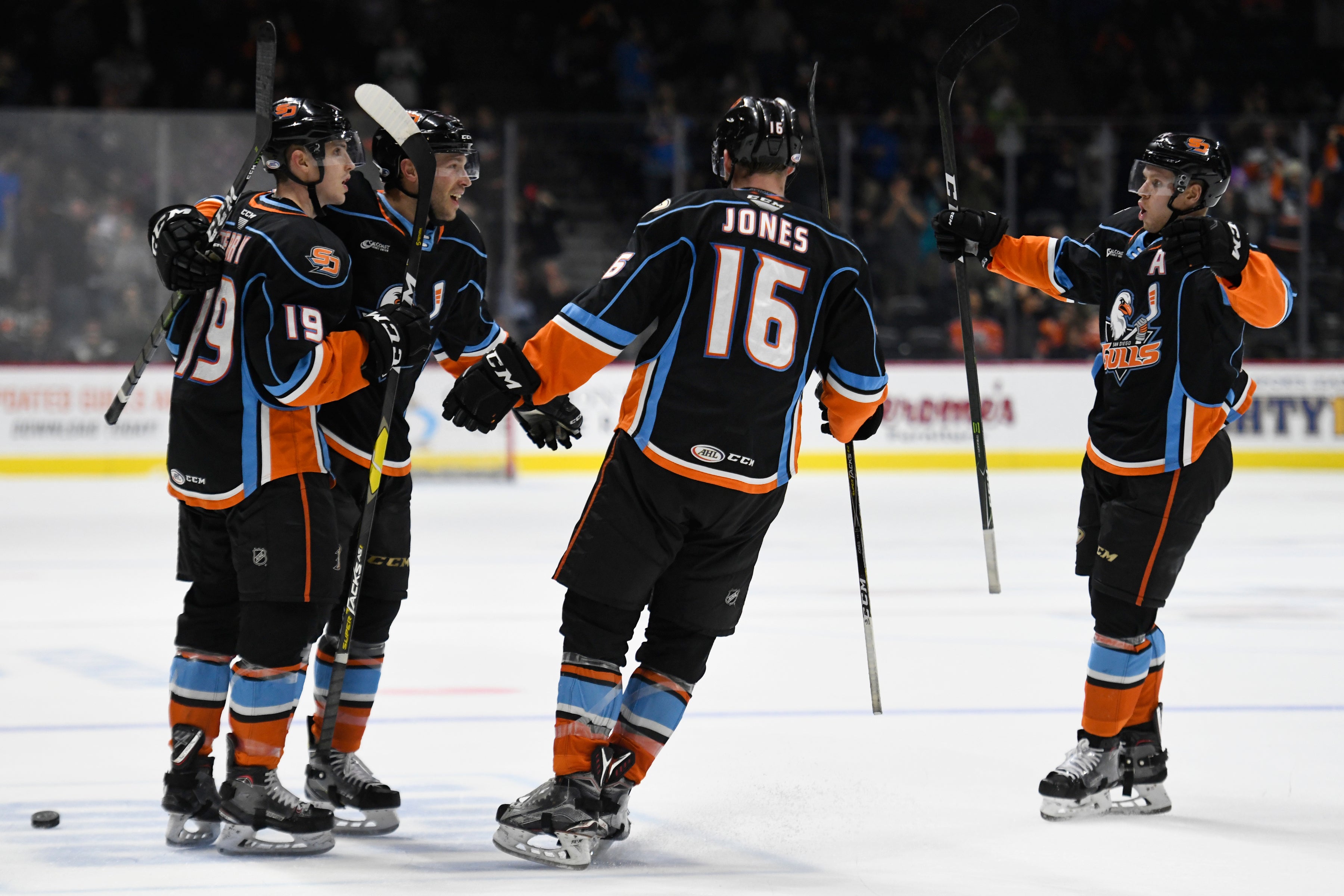 "We're having fun, I think that's the biggest thing," said Kevin Boyle following a 4-3 win over San Jose on January 4, ten games into their point streak. "We're enjoying coming to the rink every day and we're enjoying going to battle with each other and for each other. I think that's huge and it's great to see in the locker room and out on the ice. It's incredible just to see the passion that guys are playing with."
Following the point streak the Gulls record stood at 20-11-2-3 and the team rose from dead last in the AHL in points to second in the Pacific Division. In addition, they ranked tied for fourth in the league in points percentage (0.625).
During their point streak, San Diego also set another club record with eight consecutive wins. Also beginning in a game against Bakersfield, the win streak saw the Gulls outscore the opposition 34-17 over a 17-day span, Dec. 27-Jan 12 (8-0-0-0). San Diego's eight wins came as the team beat the Condors on three occasions, the San Jose Barracuda twice, the Ontario Reign, the Stockton Heat and finally the Milwaukee Admirals.
4) San Diego Overcomes Multiple Deficits to Beat San Jose in Game 1 of the First Round – April 17
The first postseason game for the Gulls in almost two years might have been one of the most exciting contests in club history. San Jose got off to an early and commanding lead, scoring three goals over the span of 2:58, the third coming at the 6:15 mark of the first period. Just as they had through the course of the regular season, the Gulls remained calm, regathered themselves and made a push back.
Less than a minute following San Jose's third goal, Jacob Larsson fired a shot through traffic and into the net for his first career postseason goal. On the very next shift, Carrick fought off a check from two Barracuda skaters, raced to the net and scored from the slot to cut San Jose's lead to one goal. Kiefer Sherwood capped San Diego's three-goal response over 3:08 of game time as he beat Bibeau with a wrist shot on an odd-man rush.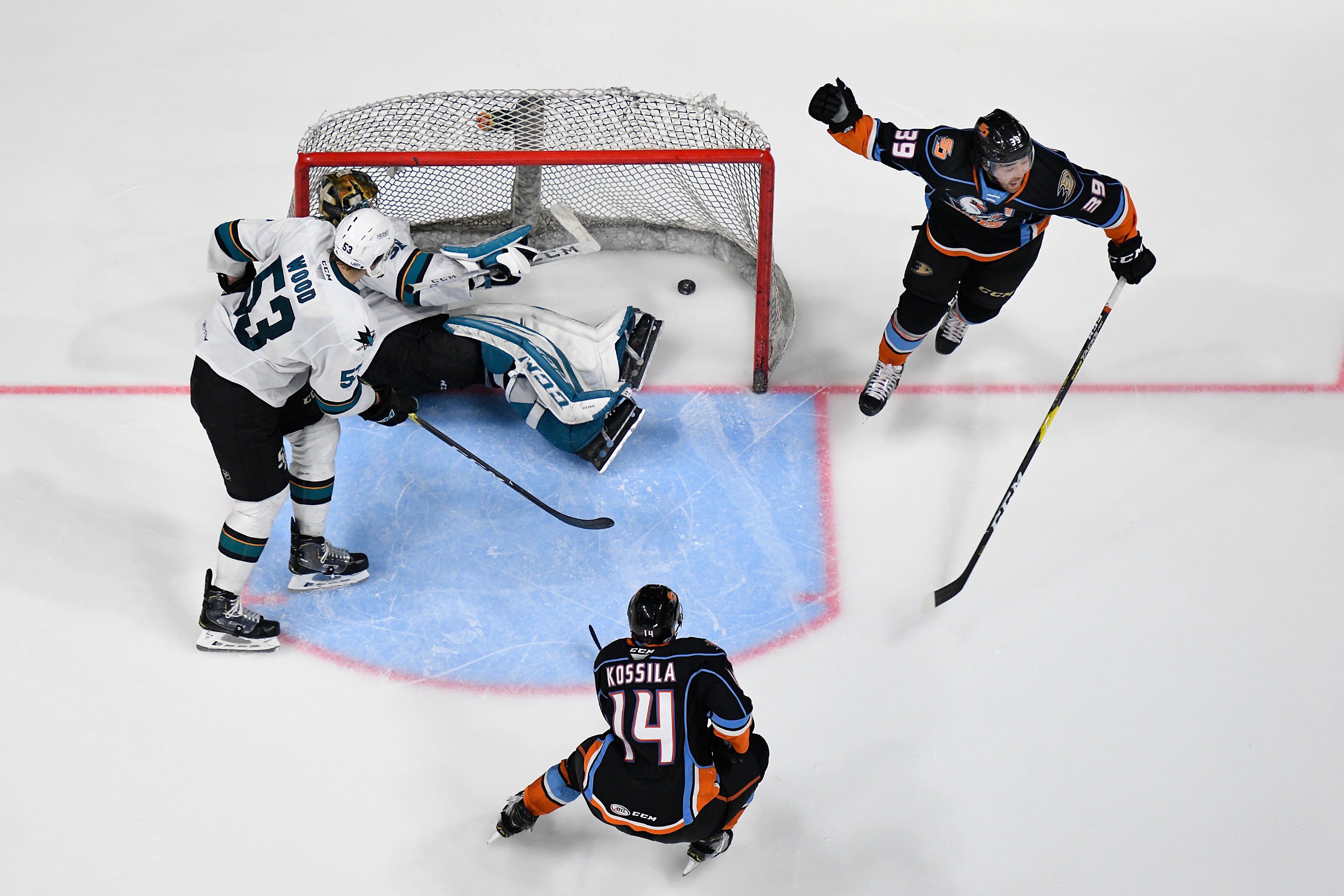 Everyone loves a comeback story, and this matchup featured multiple as San Jose scored another two goals to take back the lead. Corey Tropp put the puck between the pads of San Jose's goaltender and then Chase De Leo added his first score as a Gull with a redirected shot less than two minutes later. After a scoreless third period, the game was forced into overtime where the Gulls would claim their first of nine postseason victories.
Just over a minute into overtime, Jake Dotchin shot the puck from deep in his own zone to the other end of the ice. Max Jones broke into the zone and retrieved the puck, voiding the icing call. Jones almost found the back of the net, but Sherwood was right behind him on the play to finish the job for his second goal of the game and first game-winner in his Calder Cup Playoff debut.
"It's a lot of ups and downs, it's like a rollercoaster. You really can't foresee that. We were down 3-0 right at the start of the game, then we come back," said Max Jones following the game. "Then we go down again, then we come back. You're never out of the fight, right? It doesn't matter what happens throughout the game as long as you're working. Obviously, we came back and won the game in overtime. We didn't see that coming but you have to be ready for all situations."
3) Gulls Advance to Western Conference Finals with Game 6 Win against Bakersfield – May 13
In a back-and-forth Pacific Division Finals against the Bakersfield Condors, the series came back to San Diego for a Game 6. Coming off of a double-overtime Game 5 loss, San Diego was still up 3-2 in the best-of-seven series and had another chance to advance to the Western Conference Finals for the first time in club history.
The Gulls got off to a quick start as Chase De Leo scored 46 seconds into the game to mark the quickest goal from the start of a playoff game in club history. Bakersfield's Brad Malone answered to tie the game a few minutes later, but Kalle Kossila scored two more in the first period to give the Gulls a 3-1 lead heading into the second period. Kossila's two goals marked his first career multi-goal performance in a playoff game.
Max Comtois and Sam Carrick both stayed red hot by combining for two goals, stalling Bakersfield's attempt to battle back after Evan Bouchard netted a goal for the Condors earlier in the period. In an effort to attack a strong defensive stand by San Diego, Bakersfield pulled their goalie for an extra attacker. San Diego stole the puck before Starrett could reach the bench and Ben Street sealed the deal as he hit the vacated goal from center ice, capping San Diego's 6-2 victory.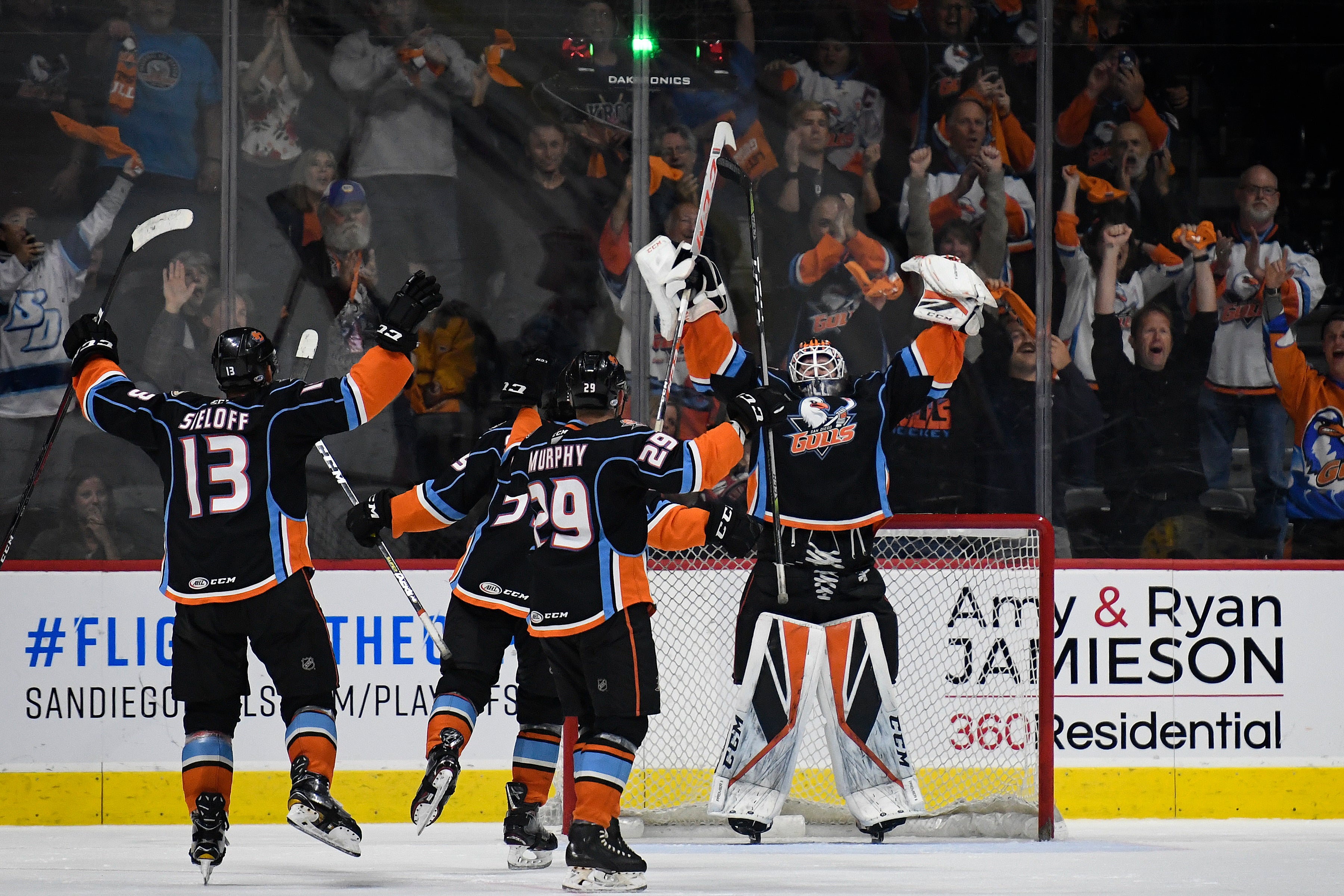 "We would have loved to have done it earlier, but getting it done at home, being able to walk off that ice and look up to those people that come and pay their good, hard-earned money to support us and be entertained, I don't think there can be a better feeling in sports that walking off the ice after winning a series and seeing your home fans so excited," said head coach Dallas Eakins.
Prior to the matchup against Bakersfield, the Gulls and their fan base had never experienced a Game 6 in the Calder Cup Playoffs. In a battle between two very strong clubs, the series went back-and-forth as the teams developed a true rivalry that everyone could enjoy. That extra competitiveness, made the win that sent the Gulls to their first-ever Western Conference Finals made the moment that much more memorable.
"We're excited, really proud of what these guys have been able to accomplish so far. We sat down early in the season and the staff did not give them goals, they had their own goals," added Eakins. "They've accomplished another one of those here tonight. We're excited. We're proud. We're going to enjoy it for another 10 or 15 minutes, we're going to get some rest and get on our way to Chicago."
2) Gulls Honor Willie O'Ree as Kevin Boyle Stops 46 of 47 Shots against Bakersfield – November 16
During the earlier portion of the season, November 16, the Gulls faced the Condors in a regular season matchup. Goaltender Kevin Boyle had a dominant performance and stopped 46 shots to win his third straight game, setting season highs in shots stopped and faced. In addition, four skaters for the Gulls tallied multi-point efforts, with Corey Tropp recorded two goals, Troy Terry netting a goal and an assist, and Isac Lundestrom and Josh Mahura each assisting twice.
However, the strong play by the Gulls was not the storyline of the night. Prior to the matchup, the Gulls honored Willie O'Ree, who made hockey history on Jan. 18, 1958 when he became the first black player to play a National Hockey League (NHL). As former Gulls player and a longtime San Diego native, O'Ree has continued to be a true inspiration to the sport of hockey.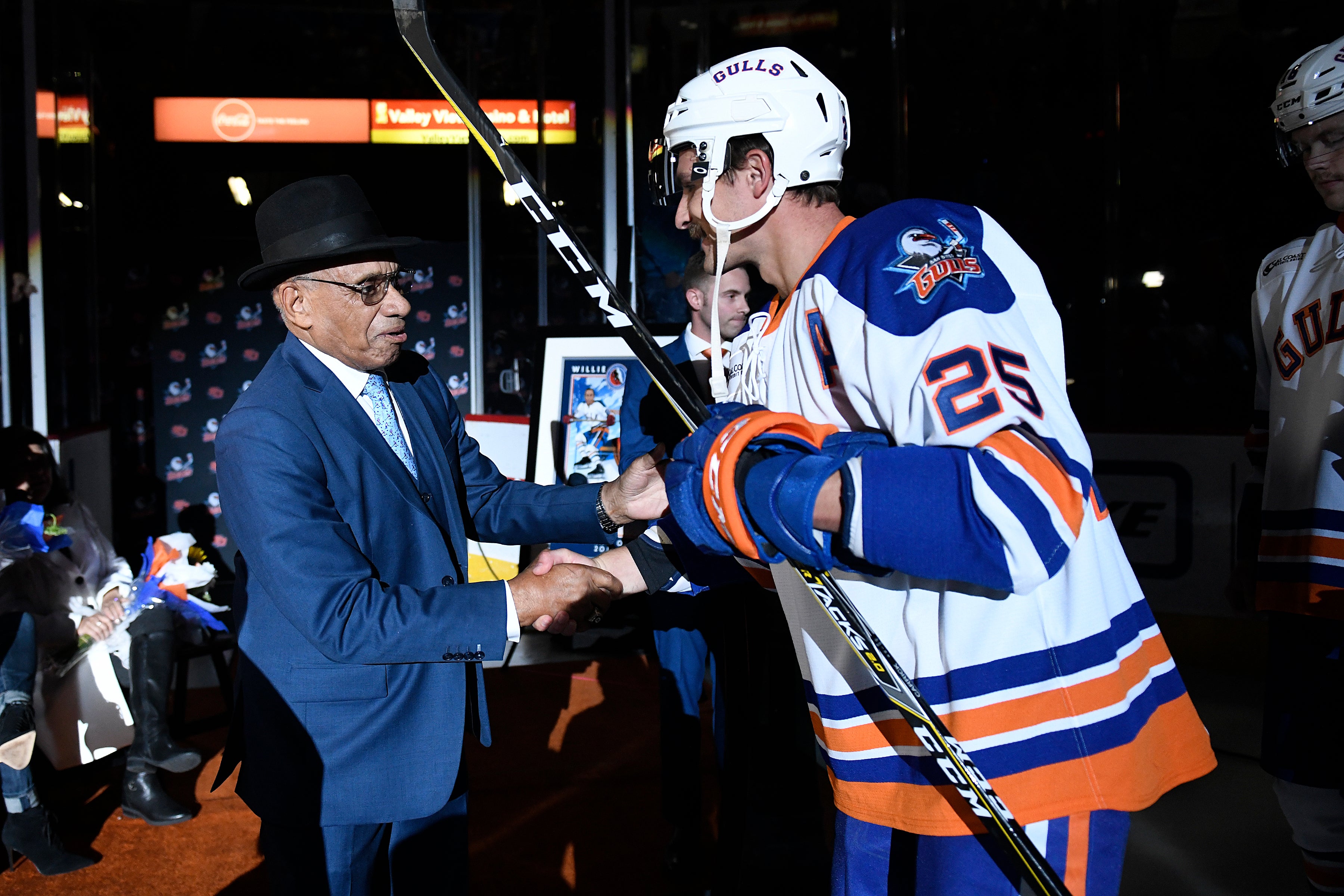 Since 1998, O'Ree has worked as the NHL's Diversity Ambassador for the Hockey Is For Everyone initiative. Through his role with Hockey is For Everyone, O'Ree has helped introduce more than 120,000 boys and girls of diverse backgrounds to unique hockey experiences and served economically disadvantaged youth throughout the U.S. and Canada.
"It's a humbling experience for me personally and I know our staff and players feel the same," said head coach Dallas Eakins. "It's such a privilege to have Willie around. He's always around and always available. He's such a kind soul. I think he's just a great example of a human being we should all aspire to be."
O'Ree had just been inducted to the Hockey Hall of Fame four days prior to the game on November 12 for his contributions and historical impact to the game of hockey. The Gulls sported a unique, throwback jersey during the game and all fans in attendance received a Willie O'Ree bobblehead in celebration of the legend's career.
"He's incredible. He's done so much for the game of hockey. I never really knew about it but once you learn about it, you're like, 'wow, that's absolutely incredible,'" said Kevin Boyle. "He's been around here for the past three years so I've gotten to know him a little bit. He's just an amazing human being. To be able to honor him tonight and come out with a win for him tonight is something special."
1) Max Comtois Ends Fifth Longest Game in AHL History with Goal in Bakersfield – May 3
The final moment on this list, once again, came in a matchup against Bakersfield and was one some might have missed as the game went on until 12:20… in the morning. In what would end up as the fifth longest game in AHL history, concluding at 124:20 of game time, the Gulls biggest goal in their four-year history was scored in quadruple overtime.
The tone of the game was set halfway through regulation with the game in a scoreless tie and both teams understood this would be a defensive battle featuring two very capable goaltenders. The Condors struck first and carried the lead into second intermission. However a flurry of three goals separated by 4:01 of game clock began the third frame of action and saw the Gulls comeback and even twice, heading into extra time tied 2-2.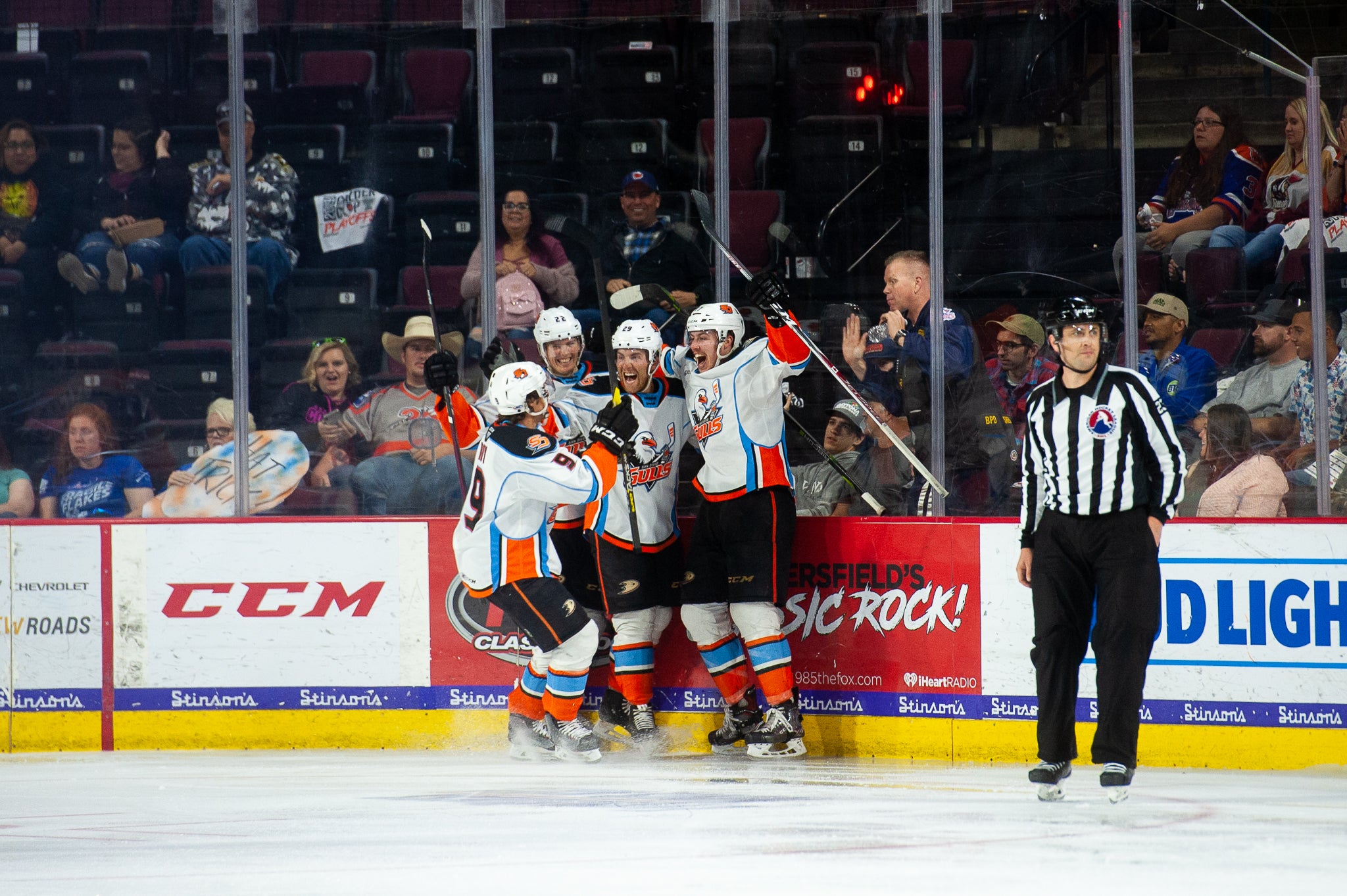 After 60 minutes of Game 1 of the Pacific Division Finals, the marathon contest wasn't even half way completed. After three long additional periods of playoff hockey, the puck dropped for a fourth overtime. Max Comtois, who was assigned to San Diego prior to the game, took a pass from Kevin Roy and snuck the puck past Shane Starrett to score the game-winning goal in his Calder Cup Playoffs debut. With his first career playoff goal, Comtois became the youngest player in club history to record an overtime playoff goal.
"Just gave it to (Kevin Roy) and he made a sick play to get both defensemen to him and give me some space," said Comtois regarding his overtime goal. "Just find a way to put it in. We were pretty tired with four overtimes so we're just happy to have the win."
San Diego goaltender Jeff Glass stopped 51-of-53 shots as he secured his fourth win of the postseason, breaking the club record for saves in a single game. With his fourth win of the Calder Cup Playoffs, Glass tied the Gulls all-time postseason record for wins by a goaltender, also held by Jhonas Enroth over a span of 10 games in 2017.
"I think at that point, we've worked hard enough as a group that you want to do everything in your power to give them the best chance to win. As a group we played outstanding and (we're) obviously ecstatic with the win, but it's one win and we want them all."
Back to All