The San Diego Gulls Learn to Play Hockey Program offers first-time hockey players the chance to get on the rink in full hockey equipment for FREE! Participants will receive instruction on the basics of hockey as well as learn how to skate properly. The program is designed for participants ages 4-to-12 years old. No prior skating or hockey experience is required. Participants already comfortable skating a length of the ice who want to try hockey are encouraged to register for the Little Ducks Hockey Initiation program.*
Participants in the San Diego Gulls Learn to Play Hockey Program are provided an equipment bag, helmet, shin guards, hockey pants, elbow pads, shoulder pads, gloves and a jersey to use for the four-week session. Rental skates are available at the rink each week. The use of full hockey equipment not only gives participants the feel of what it's like to be a hockey player, but also enables them to get use to skating, wearing all of the hockey gear.**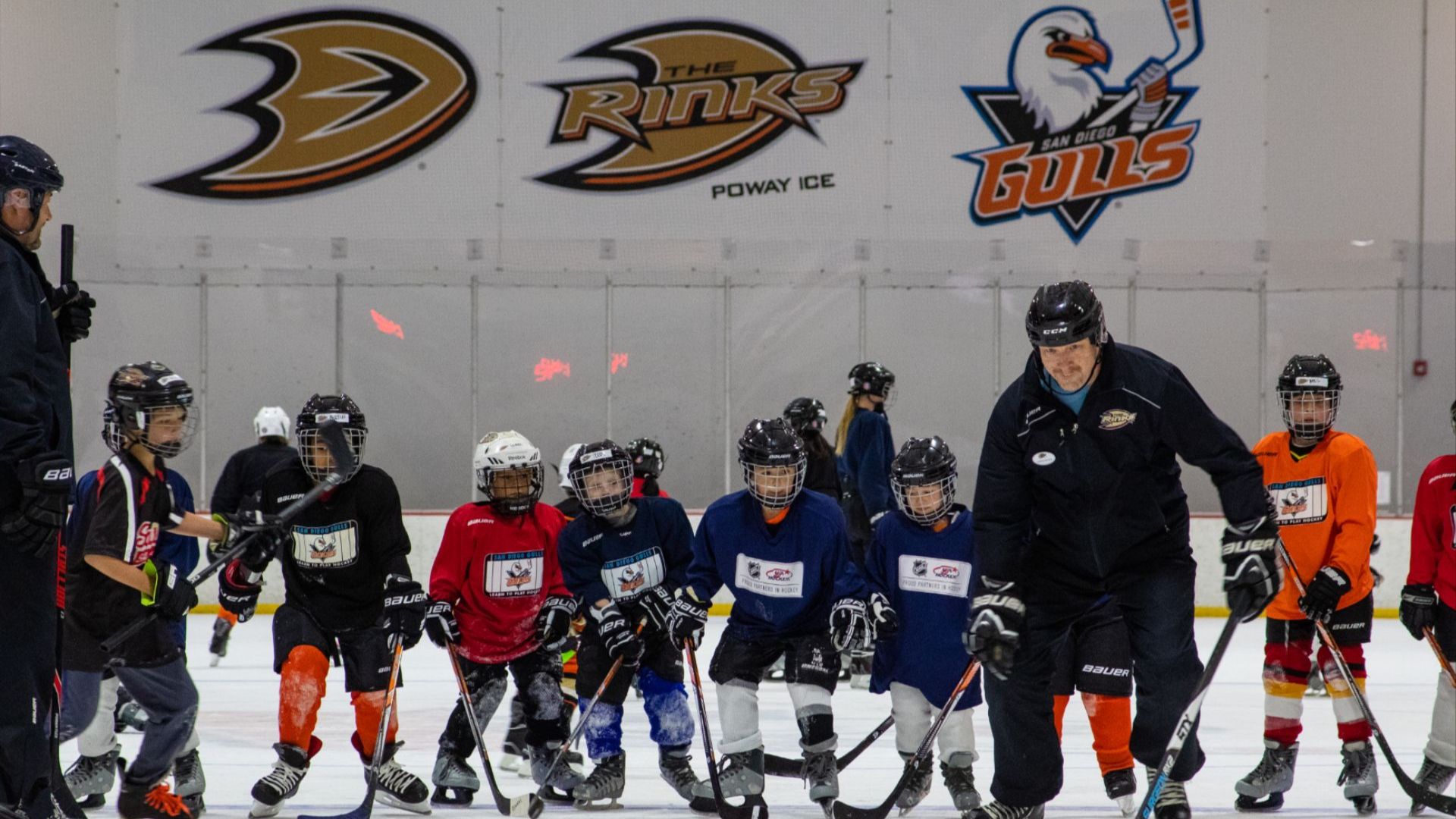 The San Diego Gulls Learn to Play Hockey Program is currently offered at the following locations:
The Rinks - Poway ICE
Address: 12455 Kerran St. #100, Poway, CA 92064
Next Session:
Saturdays, November 18; December 2, 9 & 16 (12:45 PM – 1:45 PM)
*There is no class Saturday, November 25
Click here to join the waiting list!
---
If a session at your preferred location is unavailable, please join the waitlist to ensure that we can contact you if a spot opens up or a new session is scheduled. For more information or questions please contact us at hockeydevelopment@anaheimducks.com.
---
* The San Diego Gulls Learn to Play program is intended for participants new to hockey only. Participants are only eligible to participate in the Learn to Play program once. Participants who have already done Learn to Play or have tried ice hockey before may be eligible for Little Ducks or can contact their local rink for more hockey options.
** A security deposit of $250 is required. You will not be charged to borrow the equipment. You will only be charged if the equipment is not returned at the end of the four week session. Please contact us if a participant outside the ages of 4 to 12 years old is interested in participating to ensure that we have the correct equipment available.
---
If you are using a screen reader and are having problems using this website, please call (619)359-4730.