Kevin Boyle Makes a Splash on the Big Stage
Feb 19, 2019
Kevin Boyle's first taste of the NHL is a week to remember with his first NHL start, win and shutout for the Anaheim Ducks.
By Joe Spurrier
First NHL start: Check. First NHL win: Check. First NHL shutout: Check.
February 13 will be a night to remember for Kevin Boyle as he made history with the Anaheim Ducks. But it all started a few days before to lead to his milestone night.
As the Gulls backstop in net the past three years, Boyle finally got the long awaited phone call that would let him know he would be joining the Ducks for their game on Feb. 9, 2019. That very day, Boyle would make his NHL debut with Anaheim in a game at the Philadelphia Flyers., just 60 miles from his hometown of Manalapan, N.J. With friends and family in attendance, including his wife who travelled from San Diego, Boyle's name would be called.
He entered play after just 20 minutes, relieving fellow goaltender Chad Johnson after the first intermission with the Ducks trailing 4-0. He would make 24 saves against the Flyers in a 6-2 loss, but he made stop after stop, allowing two goals in the first 40 minutes of action as he made his first NHL appearance. His performance would earn the nod to be named the starting netminder the following game as the team returned to Southern California to face the Vancouver Canucks at Honda Center.
"He's earned this," said Ducks Executive Vice President/General Manager (and interim head coach) Bob Murray to reporters prior to the Feb. 13 game. "He's worked hard. Hockey goalie is the hardest position in sports."
Prior to his call-up, Boyle had posted a 19-7-1 record with a 2.72 goals-against average (GAA) and .909 save percentage (SV%) in 30 games. He ranked second among AHL goaltenders in wins and had won 14 of his last 17 starts (14-2-1, 2.30 GAA, .917 SV%) with the Gulls.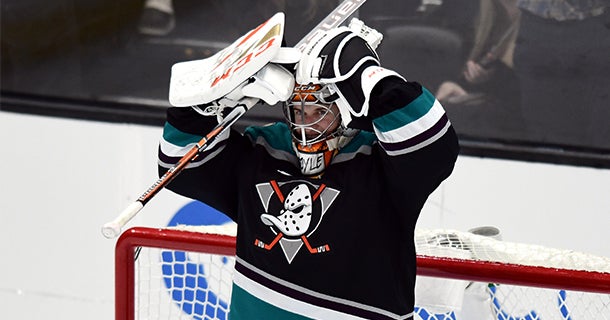 "He's done a great job," Murray said. "He saved the season a few years ago in San Diego. He's been [Gulls head coach] Dallas' [Eakins] go-to guy. He's always been a bit of a slow starter, even in school, but once he gets rolling, he's pretty calm in there. Good test for him tonight. It'll be emotional for him, for sure."
For any player, the journey to the NHL is never a short one. In the case of the goaltender position, the process of breaking into the highest level of the sport tends to take longer than that of a forward or defenseman.
It took over 26 years for Boyle to earn his first career start with an NHL club and with it, he did not disappoint. It was a night of several notable milestones as he led the Ducks to their first win at Honda Center in the last two months. To make his special night even more incredible, Boyle's big win also marked his first career shutout as he stopped all 35 shots the Canucks put his way.
At 26 years, 8 months, 14 days of age, Boyle became the first goaltender age 26-or-older to record a shutout in his first NHL start since 1986 (Sam St. Laurent with New Jersey vs. St. Louis, 27 years old on Mar. 27, 1986). Boyle joined some elite company with goaltender John Gibson, one of Anaheim's most valuable players this season and the only other Ducks player to record a shutout in his first NHL start (Apr. 7, 2014 vs. Vancouver, 18 saves).
"It's something you dream of growing up a little kid playing street hockey. To be able to come out here and get a win the first game, I can't even describe it," said Boyle following his milestone win. "I definitely imagined what it would be like. I can honestly say it's exceeded everything I ever dreamt of."
Boyle's 35-save shutout marked the sixth-most saves in NHL history in a goaltender's first NHL start (since shots were recorded in 1955). Only one other goaltender since the 2000-01 season has recorded as many saves in his first NHL start (Troy Grosenick made 45 saves for San Jose vs. Carolina on Nov. 16, 2014).
"Every goalie dreams of his first NHL start, and that dream concludes with that goalie winning in a shutout," said Gulls head coach Dallas Eakins in an interview with The Athletic. "Kevin has dreamed it many times. No more dreaming anymore."
The Gulls have had the unique pleasure of having such a consistent player and locker room leader with them for several years. Over three seasons, Boyle leads the Gulls in all-time wins (48) and appearances (84). On the weekend of Jan. 27-28, he made his first All-Star appearance at the 2019 AHL All-Star Classic as the Gulls' lone representative.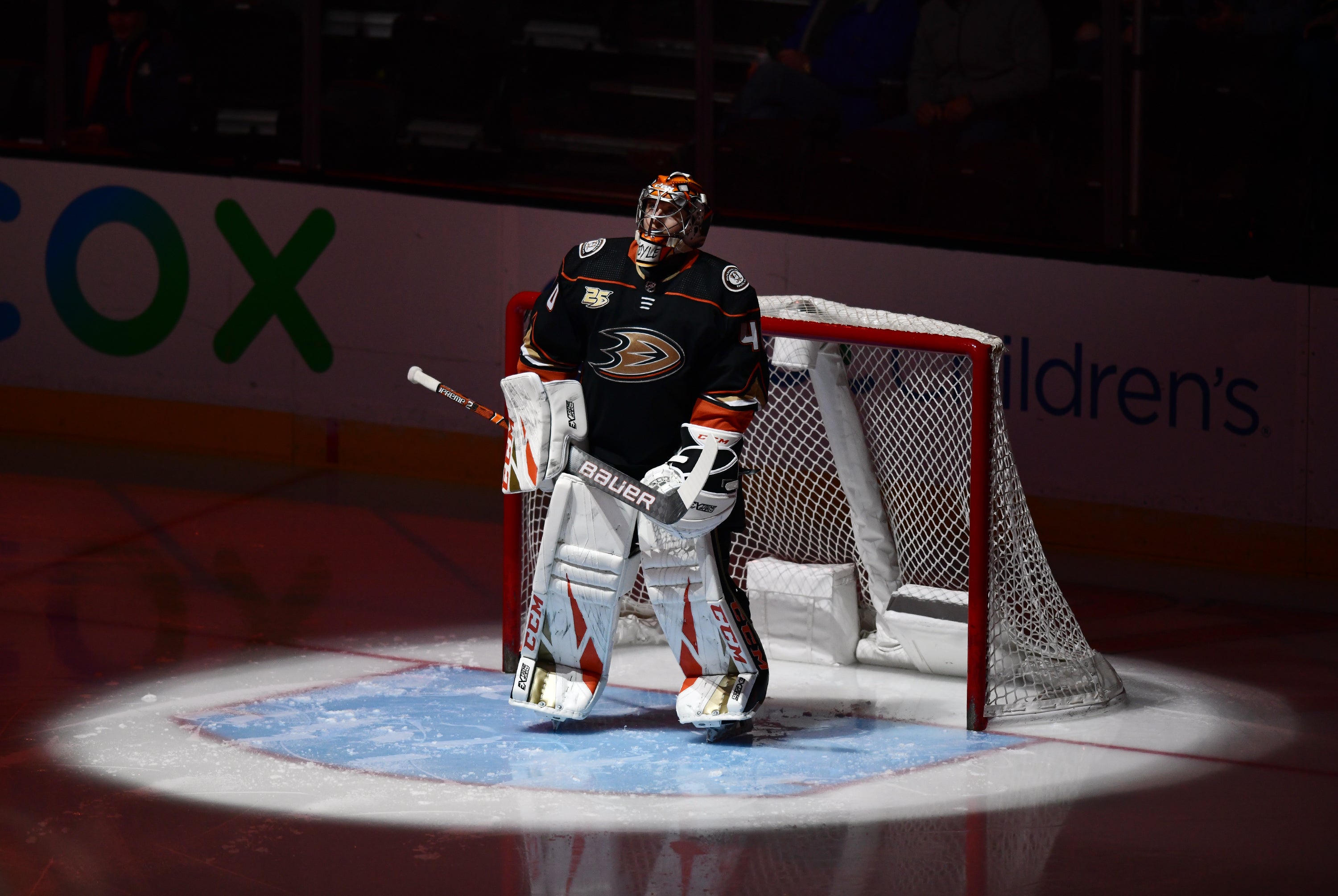 As San Diego's first goaltender to be named to the league's showcase event, Boyle recorded a club record 10 straight wins from Dec. 15-Jan. 12, posting a 2.19 GAA and .923 SV% during the stretch. His win streak surpassed the most consecutive wins by a Gulls goaltender (8) set by Jhonas Enroth from Jan. 16-Feb. 7, 2017.
The future is bright for Boyle, who is just getting a taste of what could be at hockey's highest stage. In the meantime, both the Gulls and Ducks can enjoy what he's accomplished to date.
Back to All