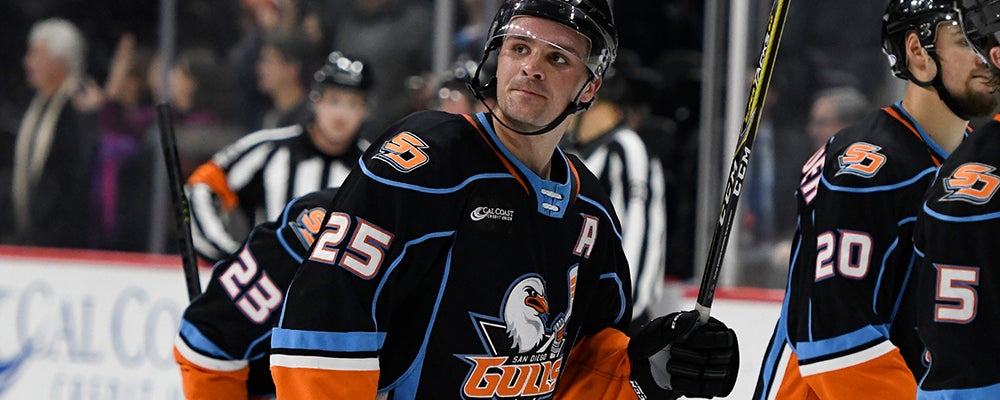 Carrick Named Team's AHL Man of the Year Award Winner
Apr 3, 2019
The San Diego Gulls are proud to announce that Sam Carrick has been named the team's winner of the IOA/American Specialty AHL Man of the Year award for his outstanding contributions to the San Diego community during the 2018-19 season.
Carrick and his fiancé, Carley, have been instrumental in growing the hockey club's relationship with Shelter to Soldier and spearheading the creation and sale of the team's Pucks & Paws Calendar. Shelter to Soldier is 501c3 nonprofit organization that adopts dogs from local shelters and trains them to become psychiatric service dogs for post-Sept. 11 combat veterans suffering from Post-Traumatic Stress Disorder (PTSD), Traumatic Brain Injury (TBI) and/or other injuries associated with traumatic service experiences.
As an alternate captain and leader in the locker room, Carrick volunteered his time to lead the logistics of all team involvement to photograph Gulls players with adoptable canines for the creation of the 12-month calendar at iconic locations in San Diego. Through the sales of 275 Pucks & Paws calendars, the San Diego Gulls Foundation raised and donated nearly $8,000 for Shelter to Solider to help fund the cost of a dog to be rescued as well as placed with a veteran in need.
Carrick has also volunteered and participated in a plethora of charitable endeavors this season to raise funds and awareness for nonprofit organizations supported by the San Diego Gulls Foundation. Carrick brought a child from the Boys and Girls Club of San Diego to shop for holiday gifts as part of the annual Shop with a Jock event. Hosted by the Junior Seau Foundation, Shop with a Jock allows local children the opportunity to select gifts for their families that they otherwise might not be able to afford. In addition, Carrick visited Rady Children's Hospital to spend time with and comfort young patients.
A native of Markham, Ontario, Carrick is a consistent presence in the San Diego community and continues to actively seek out new opportunities to enhance the lives of others through local outreach in addition to supporting animals and veterans in need. These endeavors are a small portion of the time that Carrick sets aside outside of hockey to make an impact in the community and give back.
Carrick is now one of 31 finalists for the AHL's 2018-19 Yanick Dupre Memorial Award, honoring the overall IOA/American Specialty AHL Man of the Year. The league award is named after the former Hershey Bears forward and AHL All-Star who died in 1997 following a 16-month battle with leukemia. The winner of the Yanick Dupre Memorial Award will be announced by the American Hockey League at a later date..
Back to All