Rookie Facebook Notebook: Perreault Impresses; Badini Scrap Draws Praise
Sep 20, 2021
By AJ Manderichio/SanDiegoGulls.com
SCOTTSDALE, Ariz. - Jacob Perreault has ice in his veins.
The Anaheim Ducks 2020 first-round selection in the NHL Draft knew his team needed a goal as they trailed the Colorado Avalanche in yesterday's Arizona Rookie Faceoff matchup. With goaltender Roman Durny on the bench for the extra attacker, the forward found a soft spot in the offensive zone, settling in near the faceoff circle and waiting for the puck.
Jamie Drysdale found Perreault, and he unleashed a wicked wrist shot to beat goaltender Trent Miner, whizzing a shot by the 2019 seventh-round selection. The tally evened the score and gave Perreault two goals in two games, building on an impressive showing in the desert.
WATCH: PERREAULT BURIES BEAUTIFUL WRISTER
While the Ducks would drop the game, 5-4, in overtime, Perreault's shot continued to draw rave reviews following the final horn.
"I've seen that shot from his father a lot," Gulls head coach Joel Bouchard said following the game. "I played junior against him and pro, American league and NHL. Yeah, he does have a great shot. Obviously, he's a young player. He's got so much, like you know that's why he's a first rounder, he's got some tools. And it's hard for me to teach that kind of shooting. And the good news is I can teach other things that will need to improve and, like I said, he's a young player. He's a junior age that played in the AHL last year. He's 19, so it's good cause there's a lot of positive. And what we can work on, and I won't say it's negative, what we can work on then it's the partnership that we need to have with him for him to become a very complete player. But you're right, he's got that tool and that's why he was on the ice."
With the Ontario Hockey League coming to a halt due to the COVID-19 pandemic, Perreault received a baptism by fire last season, spending 2020-21 with the San Diego Gulls. In 27 games, he collected 3-14=17 with 29 penalty minutes. He finished the season second among San Diego rookies in assists (14) and power-play assists (4).
His shot-making ability came in spurts, as the forward showed some tantalizing skill when he roofed a backhand shot against the San Jose Barracuda. With a year of professional experience under him, Perreault looks more aggressive at the rookie tournament, and he's getting his shot off with more consistency.
"You know what, I think he was very aggressive the first two games and in a lot of ways," Bouchard explained. "Which is good. And then obviously, to become a total 200-foot player, pro, it's tough. So, a couple of plays here and there. But you're right. The energy is there. The engagement was there. He tries to draw penalties and tries to be a difference maker. And he's getting scoring chances every game. So it's good for him to live this tournament. And I think a lot of the kids last year didn't get to experience this. So now he's getting to experience a challenge like this and play a premier role. It's good for him."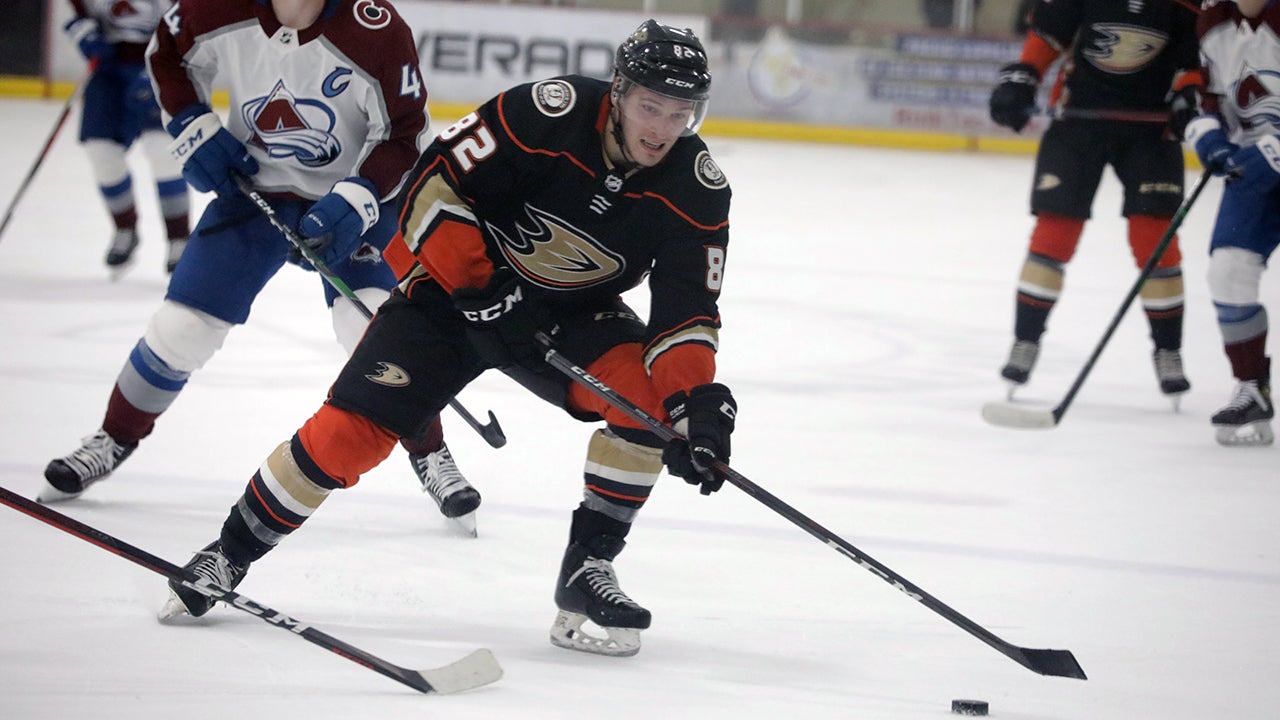 BADINI EARNS PRAISE FOR PROTECTING TEAMMATES
Jack Badini isn't the typical "enforcer," but he earned praise from his teammates following a spirited scrap against Matthew Boucher.
The Colorado forward drew the ire from Anaheim after a questionable slash on Trevor Zegras early in the first period of yesterday's game. Boucher didn't receive a penalty for his actions, and the Ducks lost their star prospect for the remainder of the game.
Badini made sure Boucher answered for his actions, dropping the gloves off the draw later in the opening frame.
"I mean, it's part of the game," the forward explained following the game. "He hurt our best player, so he probably expected that a little bit. It's kind of part of the game and he has to answer for his actions. I respect him for doing that and we just kind of move on and continue on with the game. We would have loved to not have Zegras hurt, but that's the unfortunate part of it."
Fighting isn't in Badini's repertoire, but the rookie earned praise from teammates and coaches for standing up for Zegras.
"Yeah, it was a chippy play," Bouchard explained. "And you've gotta be very proud of (Jack) Badini. Did what he did. It shows the kind of camaraderie that the guys have and the buy in that they have. We didn't have to put Z (Trevor Zegras) back out there. It's been a lot of hockey so we just took him out of the game. But I'm really happy about the response from the guys."
Zegras felt fine following the injury, escaping a significant injury and eliminating worry from the collective Ducks and Gulls fans watching back home in Southern California.
Back to All