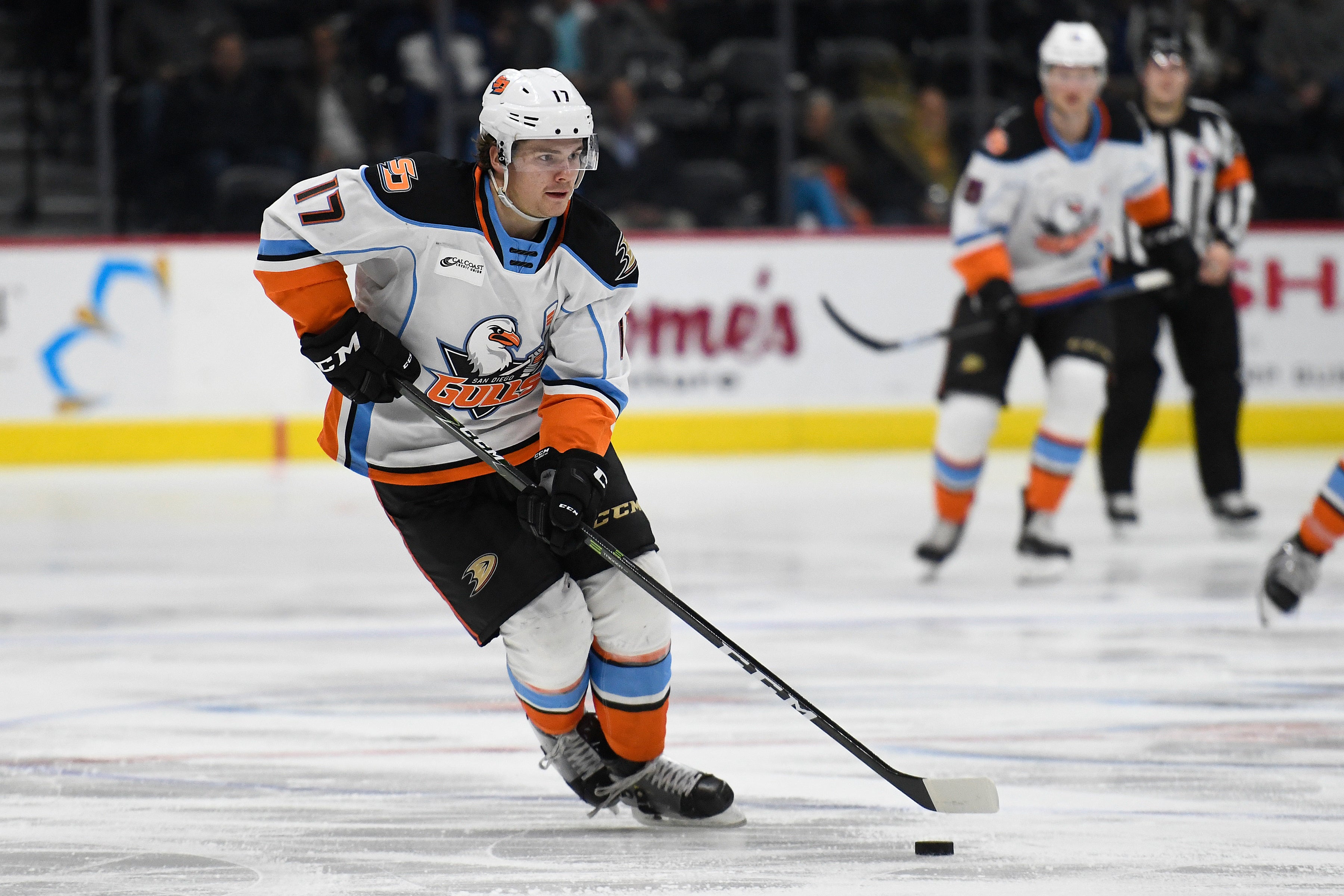 PREVIEW: Gulls at Eagles
Dec 7, 2018
The Gulls hit the road this weekend for the team's inaugural trip to Colorado, taking on the Eagles Friday, Dec. 7 and Saturday, Dec. 8 at Budweiser Events Center (both games 6:05 p.m., Radio: Mighty 1090). San Diego will look to repeat the success it had against Colorado a month ago, when the Gulls swept the Eagles in a two-game set in San Diego.
Despite tying the game midway through the third period Wednesday night against Tucson, the Gulls eventually fell 5-2 to the Roadrunners. With a first period power-play tally, Corey Tropp became the first San Diego Gull to reach the 50-goal mark. Tropp leads San Diego in all-time scoring (50-76=126), goals, assists and power-play goals (26) and ranks second in games played (145). Troy Terry added two assists in the setback, recording his fifth multi-point game to take the team lead in scoring (8-11=19). Terry also co-leads San Diego in assists with Tropp this season.
"The thing you always have to remember is saving a goal has the exact same effect on the scoreboard as scoring one," said Gulls head coach Dallas Eakins. "We have to be desperate. I understand with a development team there are going to be mistakes. That's what we're here for, is to teach. It's hard to wrap your head around, when you can play a first period like that and be so solid, and suddenly it just all falls apart.
The Eagles are the newest addition to the AHL this season as the primary development affiliate of the Colorado Avalanche. In the team's initial matchup, Chase De Leo scored the winning goal with just five minutes left in the third period as the Gulls prevailed 4-3 in front of at a sold out San Diego Sports Arena. The following night, Kevin Boyle made 41 saves, rookies Max Comtois, Max Jones and Terry all scored, and the Gulls wrapped up Military Weekend with a 3-2 win.
"That team is very well coached. Their coach [Craig Billington] is a hard-nosed guy. I know him very, very well and I expect his team to play that way. You get that in these back-to-backs," said Eakins.
The Eagles previously served as the Colorado Avalanche's ECHL affiliate from 2016-18, winning the Kelly Cup as ECHL champions in both 2017 and 2018. However, in October 2017, the Avalanche announced they would purchase a new franchise in place their new affiliate in Loveland, Colo. after sharing their primary affiliate with the St. Louis Blues in the San Antonio Rampage during the 2017-18 season.
Colorado is led by 28-year-old netminder Pavel Francouz, a Czech Republic native in his first AHL season. Francouz ranks second in the AHL with 10 wins this season and ninth in save percentage (.916). The Eagles' offense is powered by Andrew Agozzino and A.J. Greer, who have combined for 39 points in 39 games this season.
San Diego will look to continue its special teams success away from home as the Gulls own the AHL's top road power play (6-of-19, 31.9%) and fourth-best road penalty kill (27-of-31, 87.1%). The Gulls are one of only two AHL teams with a road power play and penalty kill in the top five (also Syracuse).
Sam Carrick will be eligible to return to the Gulls lineup Saturday night as he finishes a three-game suspension. Carrick leads the Gulls with nine goals and ranks third with 16 points this season.
Back to All