Rookie Tournament Tickets On Sale Now
Aug 12, 2019
The Anaheim Ducks announced today that tickets for the 2019 Rookie Faceoff are now on-sale at AnaheimDucks.com/RookieFaceoff. The Ducks are hosting the tournament, with three games scheduled for Sept. 7, 8 and 10 (nine games total) at Great Park Ice (Irvine, Calif.). Six of the nine games will take place at FivePoint Arena.
On Saturday and Sunday (Sept. 7 and 8), "VIP Day Passes" will be available for $35. Buyers will receive exclusive access to the six center seating sections at FivePoint Arena for all three games on a single day, along with complimentary tickets to Tuesday's games (Sept. 10). Orange Alliance Members can purchase "VIP Day Passes" at a discounted rate of $15 per day.

Individual game tickets are available for $10 (general admission bleacher seating). Tickets will also be available at Great Park Ice on each event day. Fans can email [email protected] with any ticketing questions for the event.

The 2019 tournament will again feature the Anaheim Ducks, Los Angeles Kings, Vegas Golden Knights, Arizona Coyotes, San Jose Sharks and Colorado Avalanche. All games will be played at Great Park Ice, located at 888 Ridge Valley, Irvine, CA 92618. All three Ducks games and six of the nine contests overall will be played at FivePoint Arena, which has a seating capacity of 2,500.
The Ducks begin their three-game tournament schedule on Saturday, Sept. 7 vs. Los Angeles (5 p.m. PT). Anaheim will continue tournament play on Sunday, Sept. 8 against San Jose (5 p.m. PT) before concluding its schedule vs. Vegas on Tuesday, Sept. 10 (3 p.m. PT). The complete Rookie Faceoff schedule is provided below.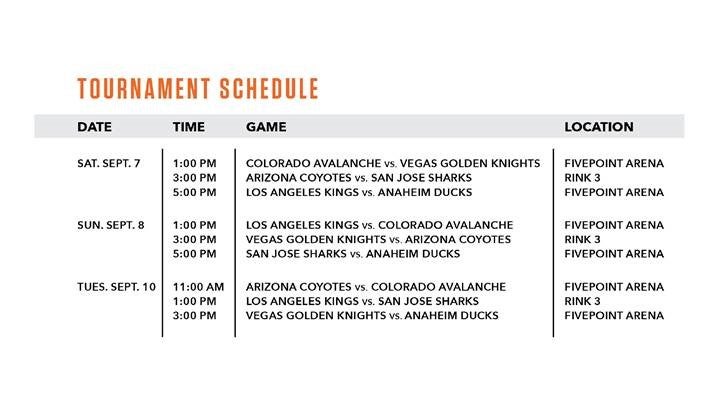 Back to All