Gulls Grads: Sam Steel
Dec 2, 2020
SanDiegoGulls.com provides an in depth look at the organization's young talent that have made an impact on the ice with the Gulls in San Diego and their transition to the Anaheim Ducks. This five-part series highlights Gulls Grads and the development of players through the organization's ranks to earn a full-time NHL role with the Ducks.
By Andy Zilch/SanDiegoGulls.com
Sam Steel's professional career epitomizes those who become Gulls Grads.
The former 2016 first-round selection started the 2018-19 season with the Anaheim Ducks, making his professional debut in the team's season opener on Oct. 3, 2018 at San Jose.
After a four-game pointless draught, he registered his first NHL point (assist) on Oct. 13, 2018 at Dallas. Just four games later, Steel scored his first career NHL goal against the Buffalo Sabres at Honda Center. The tally capped off a productive three points in five game stretch for the rookie center.
Though he found some success, Anaheim assigned the rookie to San Diego on Nov. 3, 2018, with the mandate to gain confidence in his two-way game and form chemistry with the players around him. He made an instant impact, posting a five-game point streak (4G/3A) from Nov. 10-25, 2018, which included a three-point effort on Nov. 23, 2018 (2G/1A).
The Ardrossan, Alberta native took off in the second half of the season, collecting 27 of his 41 points in his final 31 games with the Gulls. He would set a career high - and tie a Gulls rookie record - for points in a single game with four on Feb. 1, 2019 vs. Ontario (2G/2A).
The performance earned him another shot with the Ducks, and Steel put his improvements on immediate display.
On March 26, 2019 at Vancouver, he became the youngest Duck (21 years, 51 days) to record a hat trick, surpassing the previous mark held by Bobby Ryan (21 years, 297 days). He also became just the second Ducks rookie - joining the aforementioned Ryan - to record a hat trick. His hat trick came in his 18th NHL game, the fastest in Ducks history from the start of a career.
He ended his first NHL season on a high note, registering eight points (5G/3A) his last seven games with the Ducks. He collected 11 points (6G/5A) in 22 games with the Ducks.
He once again joined the Gulls, looking to help the team clinch a spot in the 2019 Calder Cup Playoffs.
Steel made an immediate impact, scoring two goals over a weekend series against the Tucson Roadrunners to carry San Diego to a playoff berth. He finished the 2018-19 regular season with 20 goals, the most ever by a Gulls rookie. He collected 41 points (20G/21A) in 53 games, finishing tied for second in goals and tied for third in points.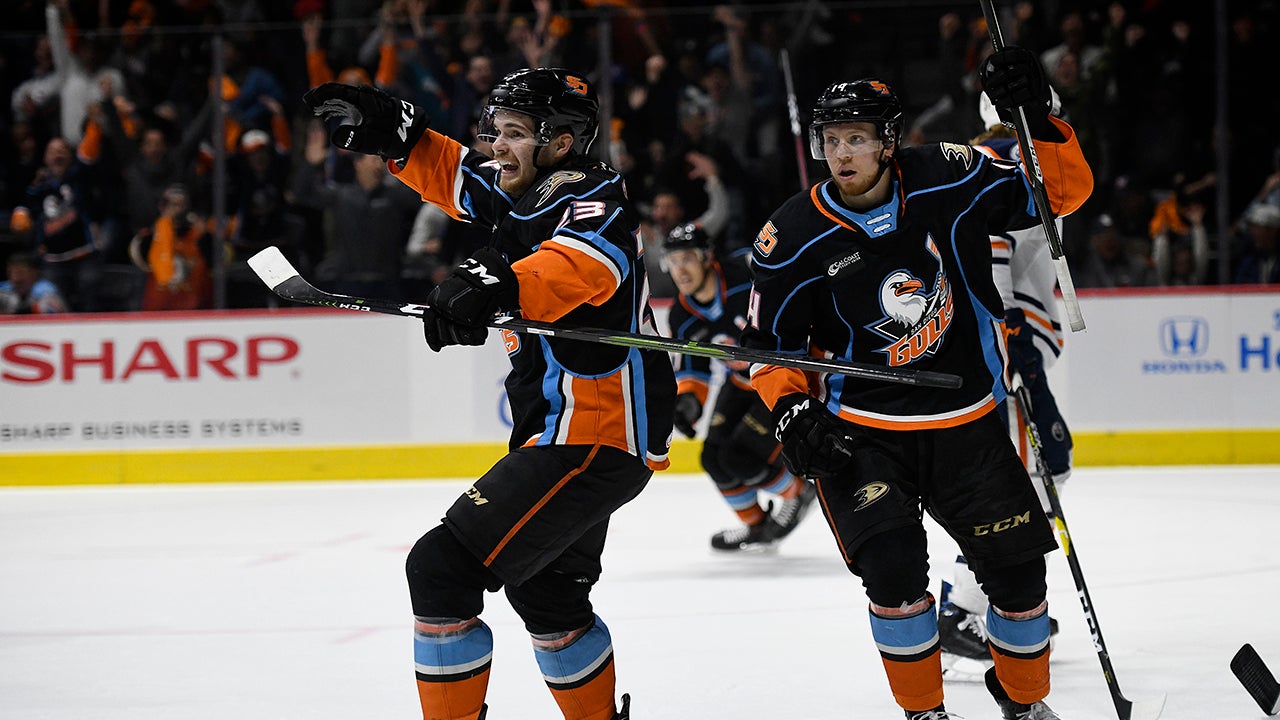 Steel carried his momentum from the regular season into the playoffs, recording a point in all four games of San Diego's First Round series vs. San Jose, including a goal in each of the final two games at SAP Center.
Helping the Gulls to their first-ever appearance in the Western Conference Finals, Steel showed his consistency with 13 points (6G/7A) in 16 games. The center finished with the third-most points on the team and fourth among all AHL rookies in playoff scoring.
Following his strong finish to the 2018-19 season, Steel earned a full-time role with the Ducks and spent the entirety of 2019-20 with Anaheim. He posted 22 points (6G/16A) in 65 games while establishing career highs in points, assists and games, and matched a personal best in goals. He also led Anaheim rookies in goals, assists, points, power-play points (1-7=8) and games.
It wasn't just his point production that earned him a full-time role. He paced NHL rookies in faceoff wins (369), faceoff win percentage (50.3%, min. 400 FO) and faceoff attempts (734). Steel recorded another milestone, scoring his first career overtime goal and game-winning goal to lead the Ducks to a 2-1 victory, Jan. 17 at Carolina. He was one of only seven rookies to score in overtime in 2019-20, joining players such as Kaapo Kakko, Jack Hughes and Quinn Hughes.
Steel will enter the 2020-21 campaign, his third professional season, leading all Ducks players 23-and-younger in scoring (12-21=33), goals and assists, while looking to contribute to the team in all three zones.
Back to All