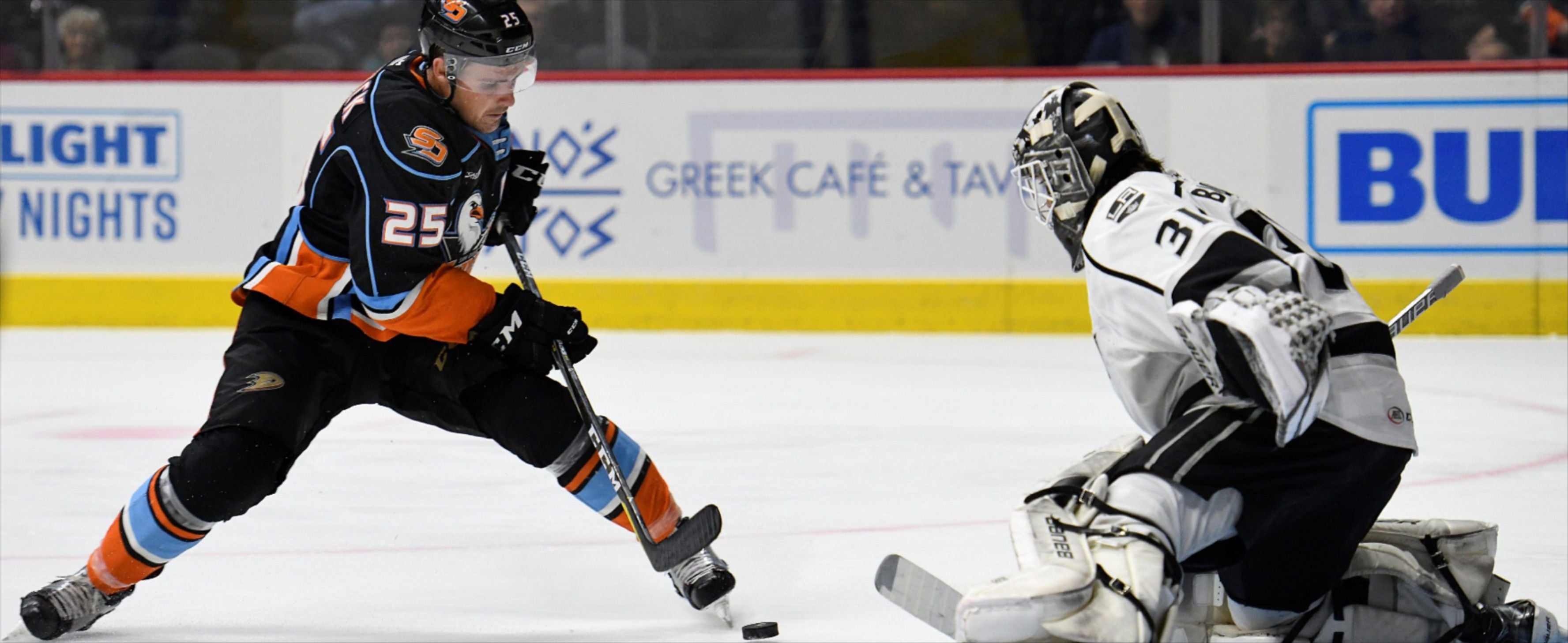 Top Moments of the 2018-19 Season: 10-6
Jul 3, 2019
10) Gulls Themed Games and Giveaways
Throughout each season, the San Diego Gulls show their support with awareness nights, promoting a number of different groups, people and charitable partners. This season the Gulls had 17 promotional home games, including 14 theme nights and seven giveaway items.
Nights such as the inaugural Hockey Fights Cancer (Nov. 23) and a fourth consecutive Pink in the Rink (Feb. 2) held a significant impact to fans, players and everyone who took part in the special nights. The goal of both themed nights was to unite the hockey community in support of cancer patients and their families, while also raising money to benefit assisting organizations. During the Hockey Fights Cancer night, Gulls players were shown in a tribute video sharing "Who They Fight For" while fans were also able to share with their own unique signs provided at the game.

The first-ever Sock Toss (Mar. 9) saw the Gulls collect new socks for the large homeless population and youth in San Diego. First Responders (Mar. 30) featured a ceremonial puck drop, in-game recognition as well as a post-game skate for First Responders and their families. In addition to the more philanthropic nights, the Gulls hosted a number of more light-hearted festivities. Gulls & Goblins (Oct. 27) marked the celebration of Halloween and a Wonderland Night (Dec. 15) shared the spirit of Christmas with fans.
San Diego also held a Star Wars Night (Jan. 19) with specialty jerseys, a Country Night with a cowboy hat giveaway and Gulliver's Kids Club Run the Show (Mar. 9) where kids were able to participate by assisting in game operations. The Gulls also recognized their NHL affiliate, the Anaheim Ducks, by celebrating their 25th Anniversary (Feb. 1) and everything they have done for the Gulls hockey club.
9) Sam Carrick Reaches 30-Goal Mark with Two Scores against Ontario – April 5
Many of the Top Moments of the 2018-19 season have featured Sam Carrick. Whether it was reaching a personal milestone, breaking a club record, scoring a critical goal or something as simple as volunteering his own time to the community, Carrick had a truly impactful year on the Gulls organization.
One of his most significant nights of the season on the ice came when Ontario visited San Diego for their last matchup of the season on April. Every point was a necessity as the Gulls were fighting for their playoff lives with just four games remaining on the regular season schedule. Luke Gazdic gave the Gulls a 2-0 lead just 2:33 into the first thanks to a setup pass from Carrick. Before the period ended, Carrick added a goal of his own to bring the game to a 3-0 score, his 29th score of the season.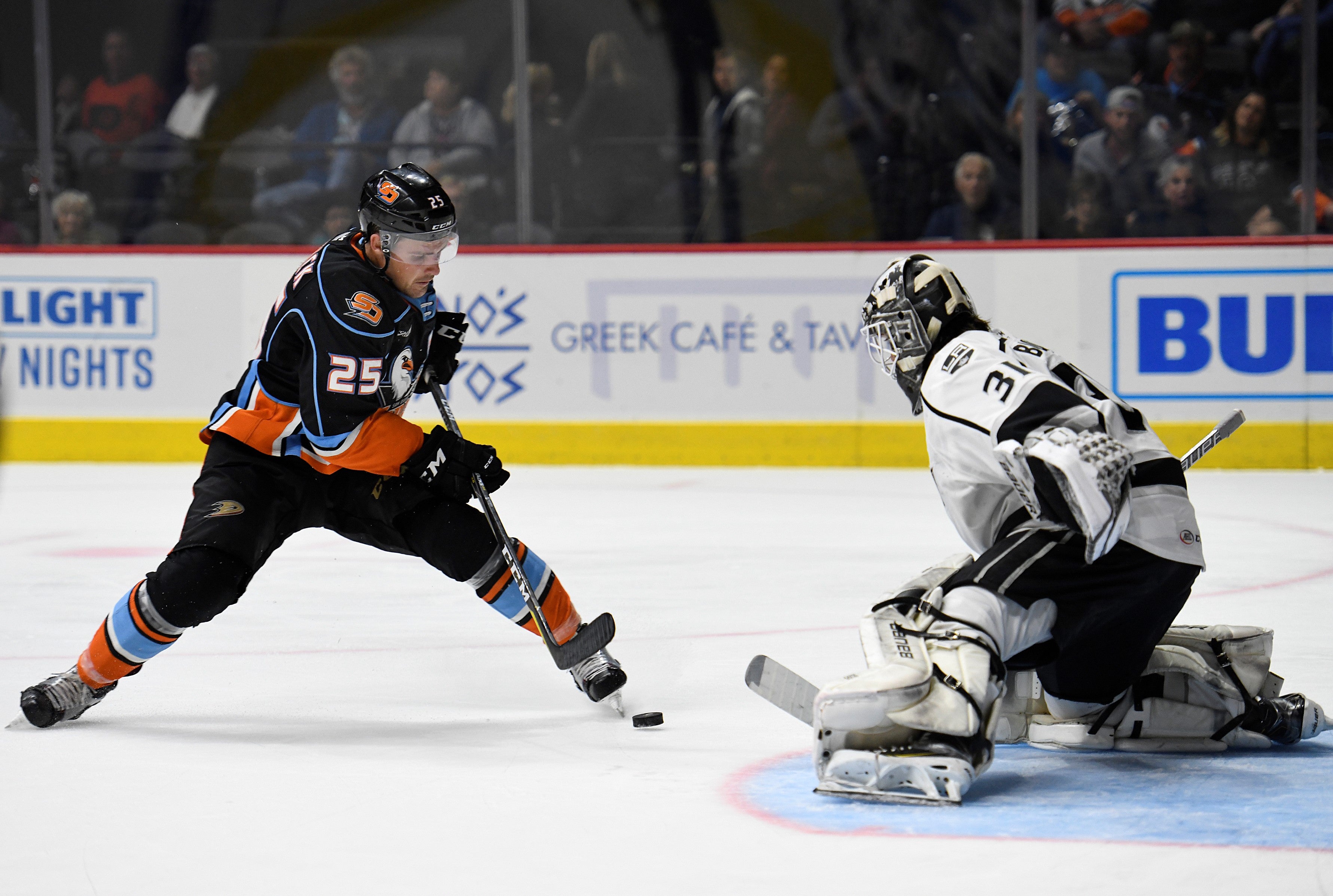 "It's hard to explain, seeing him on a daily basis, how professional he is and the person he is. He's three years younger than me and I look up to him," said Carrick's linemate Luke Gazdic. "I'm looking to him for leadership and guidance. Playing with him is just a bonus. It's easy. Get the puck deep, go make a hit, make sure you get to the net and have your stick on the ice just like I did, because a lot of times you're going to get rewarded."
The Gulls continued controlling the game and Carrick sealed the win when he added a third period goal to reach the 30-goal mark, something no other Gulls player has ever accomplished. The previous record for goals in a season was 21, set by Kalle Kossila in 2017-18, Corey Tropp and Antoine Laganiere in 2016-17. In the following final three games of the season, Carrick netted two more goals to bring his season total to remarkable 32.
"He's been amazing. It's been a privilege for me. I saw Sam in the Toronto Maple Leafs organization when he turned pro," said head coach Dallas Eakins. "To see him grow, not only as a player but as a man, and now he's a father, he's having a hell of year on the ice. Thirty goals in 58 games. His positive effect on his teammates, our staff, our organization and this great city, it is just such a privilege for me personally to watch that young man grow into a man."
8) Max Jones Featured on ESPN Top 10 Plays in 5-1 Win over San Jose – December 30
It's not too often that the American Hockey League (AHL) is featured on ESPN SportsCenter Top 10 Plays of the Night. Following a career night and an unbelievable goal Max Jones was able to crack that list at the number three spot.
The play started when Sam Carrick won a faceoff in the Barracuda zone and found Jones at the top of the crease. The former Anaheim Ducks first round selection put the puck between his legs and lifted the puck over the blocker side of the Barracuda goaltender for his 10th goal of the season. It marked the second straight game with a goal for Jones who would later add two assists for five goals and nine points (5-4=9) in his last seven games.
"It was pretty nice. Instinct kind of just came over and I figured I might as well try to score and score in a cool way," said Max Jones following the game. "It's just kind of what came to mind and what happened."
7) Kevin Boyles Blanks Chicago in Gulls' First Western Conference Finals Win – May 18
The Gulls were coming off their first-ever Western Conference Finals game, a 5-4 overtime loss on the road to the Chicago Wolves on May 17. With no off days in between Games 1 and 2, the Gulls had to shake off the loss and prepare to tie the series heading back to San Diego.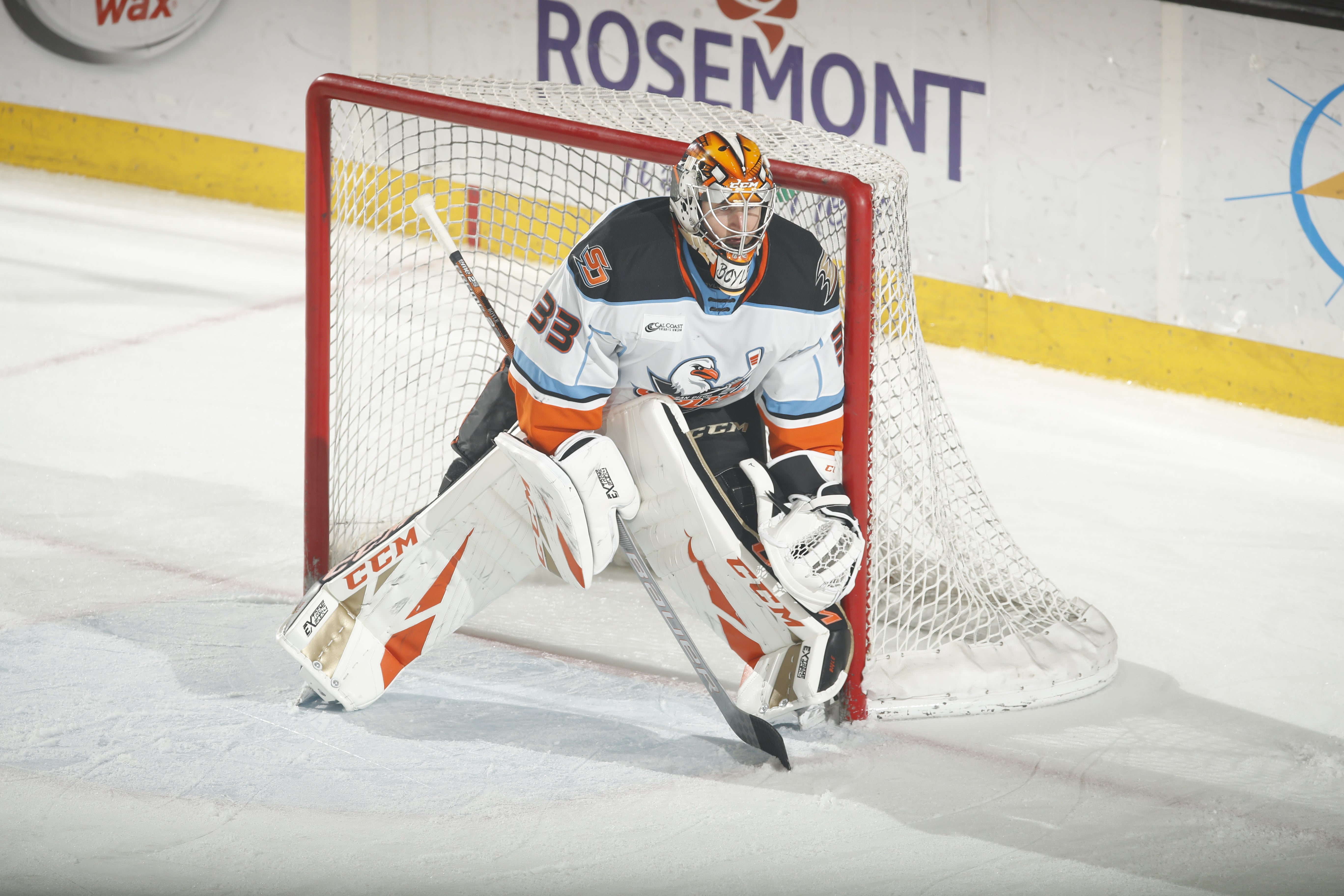 "No need to dwell on the past, nothing you can do about it. Can't feel sorry for ourselves because we lost the game," said Gulls forward Adam Cracknell. "We're not going to come in here and sweep the series, obviously that would be the ultimate goal, but right now we're down 1-0. You have to win four and just go one game at a time. Come out with a good effort and better execution tomorrow and try to eliminate some mistakes."
It was once again Sam Carrick who got the Gulls on the board 6:56 into the first period as he put home a rebound from Adam Cracknell's initial shot. The Gulls doubled their lead early in the second when Jack Kopacka scored his first career Calder Cup Playoffs goal. A strong defensive effort by both Kevin Boyle and the skaters in front of him held the lead to two goals late into the game and Sam Steel sealed the win with an empty-net goal with just over a minute left in the contest.
Boyle stopped all 29 shots to record the second shutout in Gulls postseason history and give San Diego a 3-0 win. The shutout marked the first of the Gulls postseason run for San Diego and the second in club history. The game marked the second straight win for Boyle in the postseason, where he made a combined total of 48 saves on 49 shots to post a 0.55 goals-against average and .980 save percentage over the two games.
"It's huge, especially after last night. We had a lead late in the third period and they scored to tie it up," said Kevin Boyle following the win. "It was nice to shut it down there at the end. Like I said, the team, credit to them so much. They kept everything to the outside, they were blocking shots like crazy. They did a hell of a job."
6) Troy Terry Sets Records after 11 Consecutive Games with a Point – November 23
Coming into the 2018-19 hockey season, Troy Terry was considered a highly-touted prospect in the Anaheim Ducks organization. His start with the Ducks didn't go the way most had expected as the forward went scoreless in his first six games. As the primary development team for the Ducks, the San Diego Gulls is a club to do exactly that, develop players' skills and give them the confidence to succeed at the highest level.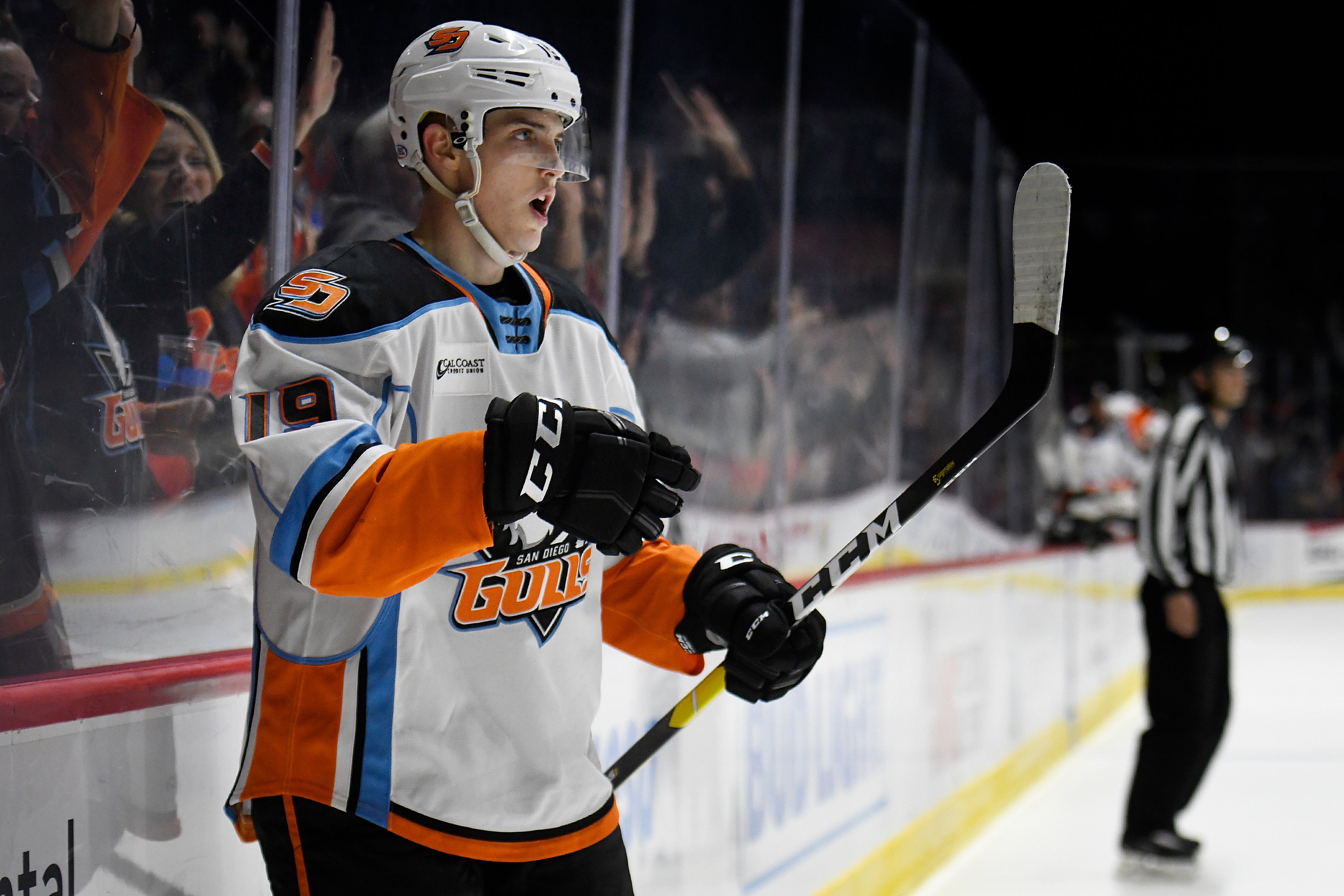 On October 19, Terry was assigned to San Diego and slotted in on the right wing of the top line. A chat with head coach Dallas Eakins prior to the game gave Terry all the confidence he would need to spark the start of something special. His first game with the Gulls was October 19 when the team faced the Milwaukee Admirals. Terry made an immediate impact and recorded 2-1=3 points, including the game-winning goal.
"This is my first year of pro hockey and mentality is the biggest thing. I've been trying to adjust to that," said Troy Terry. "I wasn't playing bad hockey when I was (in Anaheim), I just wasn't playing at the level I know I can play at. A big part of my game is producing and I was starting to get frustrated and starting to change who I was. So that's kind of why I am down here, just to find myself again and get that confidence back as a player and that was something I was excited for."
Just over a month later, Terry picked up an assist against Stockton on November 23 to extend his point streak to 11 consecutive games. The rookie forward had recorded a point in all 11 career AHL games (7-9=16) since his debut, including all nine home games (7-7=14). At the time, Terry's point streak was the longest by an AHL rookie since Evgeny Svechnikov (Grand Rapids) who recorded a 12-game point streak from Jan. 20-Feb. 17, 2017 (5-9=14).
"I think I always had it there, I was just starting to question the things that I usually do," added Terry. "It helps when you play your game and the things you were doing and creating work and I was able to get some success from what I was doing. It's pretty reassuring."
After picking up 41 points in 41 games with the Gulls, Terry's performance earned him a trip back to the NHL. In just his second game with Anaheim following his call-up, Jan. 19 at New Jersey, Terry recorded his first NHL goal and assist in a multi-point performance (1G/1A). Terry totaled 4-9=13 points over 26 games in his second stint in with the Ducks.
Back to All