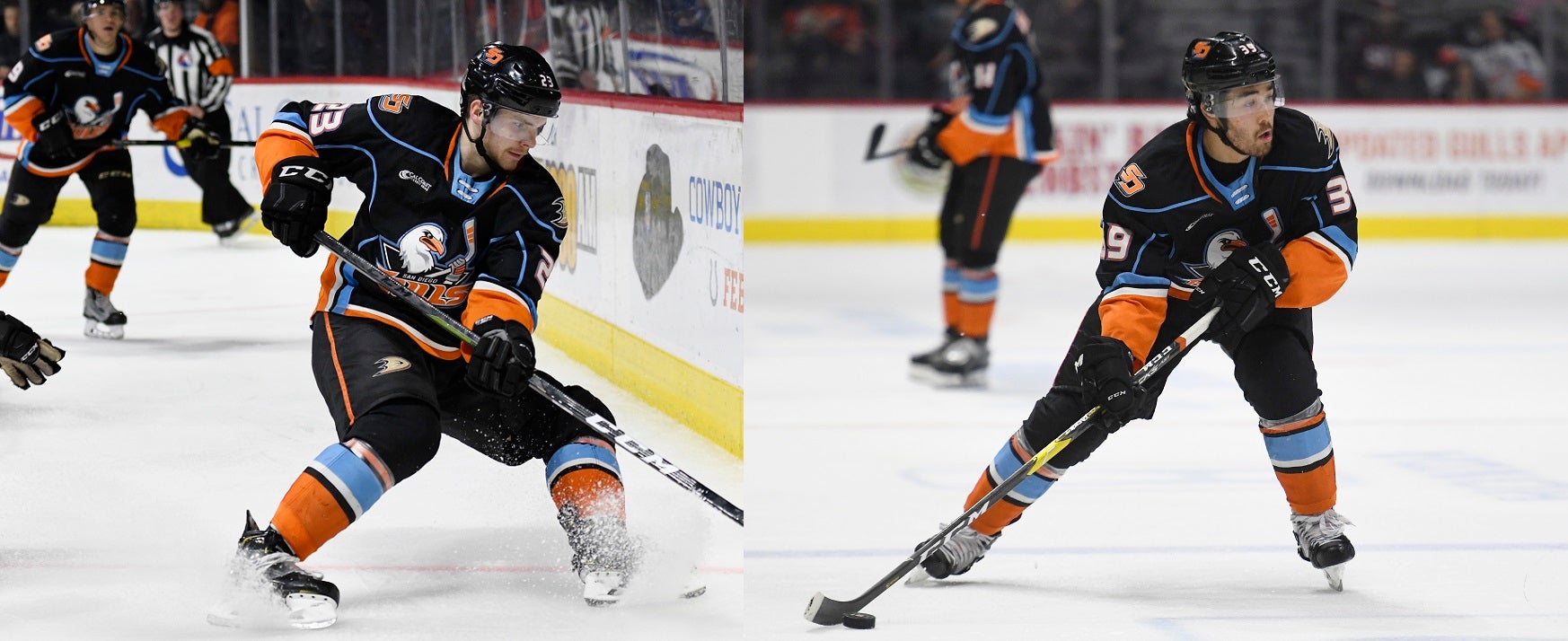 Gulls A-Z Profile: Sam Steel and Kiefer Sherwood
Sep 5, 2019
One, a former early draft pick with high expectations, and another, an undrafted free agent out of college, Sam Steel and Kiefer Sherwood each had different paths to their first NHL appearance. A year ago, the two were both at the 2018 Vegas Rookie Faceoff in Las Vegas, Nevada to show coaches, scouts, media and their own teammates that they belong at the professional level. Both players impressed enough to show that they were ready to make their NHL debut with the Anaheim Ducks in the 2018-19 season.
A former Anaheim first round selection (30th overall) of the 2016 NHL Draft, Sam Steel began the season with the Ducks and made his debut at San Jose on Oct. 3. In his fifth game in Anaheim, Steel gained his first NHL point with a beautiful assist on a no-look pass from behind the net to Adam Henrique. Steel then strung together 1-2=3 points, including his first NHL goal on a deflection vs. Buffalo on Oct. 21, over a span of five games. However, at the end of October, the Ducks thought it would be best for Steel to be reassigned to San Diego where he could develop his skills with the other young crop of rookies.
That decision proved to be a wise one as Steel quickly became an offensive force on the ice, recording 4-4=8 points over his first eight games with the club. The Edmonton, Alberta native had a record year with the Gulls, earning 20-21=41 points and 24 PIM in 53 games. Steel not only led San Diego rookies in goals, he surpassed former Gull, Giovanni Fiore's rookie record of 18 goals in a season. The young forward also tied another rookie record for points in a single game not once, but twice, on Mar. 13 at Bakersfield (1-3=4) and on Feb. 1 vs Ontario (2-2=4). In addition, Steel also co-lead rookies in scoring, ranked second in both assists (21) and power-play goals (3).
The 21-year-old was recalled by the Ducks on Mar. 5 and the rookie quickly showed the progress and confidence he gained in his time with the Gulls. In the Ducks final eight games of the season, Steel totaled 5-3=8 points and a +5 rating, including a hat trick. His three-goal performance on Mar. 26 at Vancouver saw him set two franchise records. He became the youngest Ducks player (21 years, 51 days) to record a hat trick and was the fastest to do so from the start of a career (18 games). Once the NHL season concluded, Steel was brought back down to San Diego where he could get some professional postseason experience. He appeared in all 16 Calder Cup Playoff games with San Diego, registering 6-7=13 points with a +5 rating while setting new Gulls rookie marks for postseason points, goals and assists.
"Looking back, I think I grew a lot and improved a lot. With it being my first-year pro, you learn a lot about the game and everything," said Steel looking back on his rookie year. "I think that's the biggest thing for me. Some good experience in playoffs. Obviously not the result we wanted, but to get that far I think it was somewhat of a successful year for my development."
Sherwood had a much different road to the NHL, one that is less traveled, but has become a slightly more common approach. Rather than go to juniors like most NHL players, Sherwood spent three years at Miami University located in Oxford, Ohio. He totaled 34-52=86 points in 126 games with the Miami RedHawks, yet Sherwood didn't hear his named called in an NHL Entry Draft. The collegiate product was signed by Anaheim as an undrafted free agent on Mar. 20, 2018 after his final season with Miami concluded.
Four days after his signing, Sherwood made his professional debut with the Gulls at Cleveland on Mar. 24. In his debut, Sherwood scored his first professional goal, the overtime-winning goal. He played in 11 games with San Diego in 2017-18 and recorded two goals over that span. In 2018-19, Sherwood joined Steel as one of the rookies to make the Ducks out of training camp and made his NHL debut alongside him at San Jose on Oct. 3. Once again, the 6-0, 194-pound forward made an immediate impact in his first game with a team, gaining his first NHL assist and point. Sherwood spent 46 games, earning 5-5=10 points with Anaheim before returning to the Gulls to play Texas on Jan. 16.
Sherwood's time with the Gulls was a productive one as he scored 6-12=18 points with a +15 rating and 12 PIM in 29 games with the Gulls. Sherwood also earned a return to the Ducks to conclude the season where he played on the same line as Steel in the game that he recorded his hat trick, assisting on one of Steel's three goals. The 24-year-old also helped San Diego to their first Western Conference Finals appearance where he tallied 4-4=8 points with a +3 rating in 16 Calder Cup Playoff games. In Game 1 of the First Round against San Jose on, Apr. 17, 2019, Sherwood played in his first professional playoff game where scored a game-tying goal in the first period and a game-winning goal in overtime.
"I think we battled through a lot of adversity and learned a lot of things throughout the process," said Sherwood during end-of-season interviews. "The biggest thing is we can take some learning steps from what we went through in the postseason and hopefully use it to build on to next year and so forth."
Both young forwards, although taking different paths, have been able to prove that they can play at the highest level that the sport has to offer. Now, the question becomes, how much can they continue to elevate their game and become a key part of the organization's future for years to come.
SanDiegoGulls.com highlights each player from A-Z heading into the 2019-20 season, breaking down the roster and what's to come from each individual.
Jacob Larsson and Isac Lundestrom
Scott Moldenhauer and Steven Ruggiero
Back to All